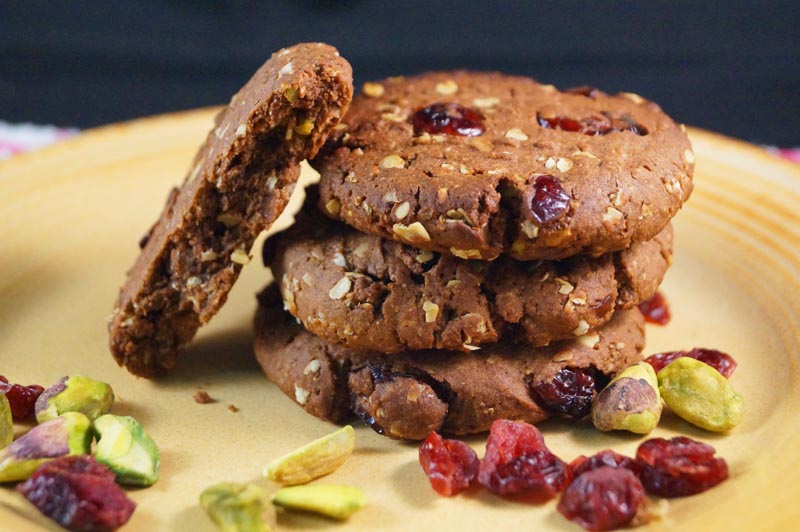 Weekend baking starts here and I've gone cookie mad! I bought some dried cranberries that just seem to go so well in cakes, cookies and muffins, so I might just have to stock up on them as they are handy to have in. If you don't have cranberries, just sub them for whatever dried fruits you have in, raisins, dates, apricots etc and the same with the pistachios, sub them for walnuts, hazelnuts, almonds. Just use what you've got in the cupboard really.
I also managed to find some cacao powder (not cocoa, but cacao) wasn't as expensive as I thought it was going to be either which is a bonus, so I've been baking quite a few things this last week using it and it's lovely although can't really tell much of a difference taste wise between cacao powder and cocoa.
I'm looking forward to a rest day tomorrow, my legs ache from body pump this morning and the crxworx class I did last night, they are great classes, but they work you really hard (which is a good thing) and now I just need a wee rest before spin class on Tuesday! So I'm going out this afternoon to watch the footie, then home for movie night (I feel so old writing that… shouldn't it say something like, "then home to get changed and head out to a great club…."?)
Cranberry & Pistachio Chocolate Cookies (vegan & gluten free option)
MyInspiration Feel The Difference Range
Makes 6 cookies – ready in 30 minutes
2 tbsp vegan margarine
3 tbsp maple syrup
Pinch of Allspice
1 tsp vanilla extract
1 ¼ cups rye flour (for gf change this to 1 cup of buckwheat)
3 tbsp cranberries
12 pistachio nuts deshelled and chopped
1 tbsp cacao powder
¼ cup oats
Method
Preheat oven to 180 degrees celcius (356 degrees Fahrenheit) and line a baking tray with parchment.
In a mixing bowl mix together the margarine, maple syrup, vanilla extract & allspice until it's all combined, then add in the flour, cacao powder, oats. cranberries and pistachios and again stir together.
Take heaped tbsp of the dough and roll into a ball and pop on the baking tray, take a fork and carefully press the cookies to flatten them out. Pop in the oven for 15 minutes until they feel firm to the touch. Remove from oven and cool.