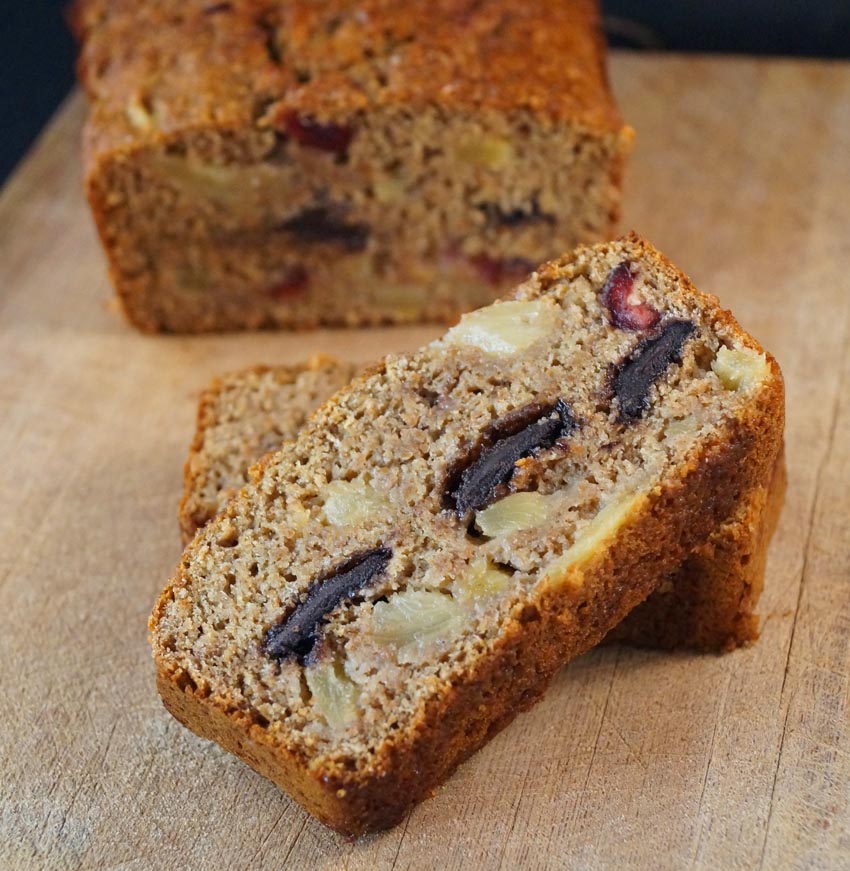 I had a notion the other day to make some kind of sweet loaf, so I went hunting in my kitchen for my loaf tin only to find it at the back of a cupboard all rusted, boo! I don't think I've actually used it in almost a year, so it was a mad dash to the shops to find another loaf tin, which was good in a way as I got a really nice tin that was smaller than my previous one which suits my needs better, so I can see me using it quite a bit, especially after the success of this Cranberry, Pineapple & Chocolate Chip Loaf, it's just so very delicious!!
This recipe is easy to play around with too, I'm thinking maybe some freshly chopped black cherries instead of the cranberries, or perhaps some delicious rhubarb, if it's in season, if not there's always canned. And now that I have my beautiful shiny new loaf tin I'm just waiting ever so patiently to get my paws on some pumpkin as I'm now brimming with excitement at the idea of pumpkin bread along with a nice big mug of hot chocolate!!
Just ordered my nan's present for her 83rd birthday which is in a couple of weeks, she loves the theatre and we used to go together quite a bit in Edinburgh and London when I lived at home. But now I've enlisted my 13 year old niece to take my place when I can't be there and thankfully she's quite taken with the theatre as well, so it's a double bonus for me! I got her tickets to see Three Phantoms at the Festival Theatre in Edinburgh, it sounds like a fabulous show and I'm gutted I'm missing it, I'll need to keep an eye on what events are happening when I visit again next, it'll be nice to catch a show or two.
Cranberry, Pineapple & Chocolate Chip Loaf (vegan with gluten free option)
MyInspiration Feel The Difference Range
Makes roughly 10 slices – Ready in under an hour
2 cups rye flour (for gluten free use buckwheat or your favourite GF brand)
2 tsp baking powder
½ tsp baking soda
Large pinch Allspice
2 tbsp melted vegan margarine
3 tbsp maple syrup
1 cup non dairy milk (I used hazelnut)
½ tsp apple cider vinegar
4 tbsp pineapple juice
¾ cup pineapple chunks
¼ cup dried cranberries
15 large vegan chocolate buttons (or 1/4 cup chocolate chips)
1 tsp demerara sugar mixed with a pinch of cinnamon for topping
Method
Preheat oven to 180 degrees celcius (356 degrees fahrenheit) and lightly grease a loaf tin (5″ x 8.5″) with vegan margarine.
In a large mixing bowl combine the flour, baking powder, baking soda and allspice, then stir in the pineapple chunks so they are well coated with the flour. In a separate bowl combine the melted margarine, maple syrup, pineapple juice, non dairy milk and apple cider vinegar, make a well in the centre of the flour and pour in the wet ingredients along with the cranberries and fold the mixture together, you should get a nice thick batter, add more milk if it's too stiff.
Pour half the mixture into the loaf tin and spread it out evenly, now sprinkle a layer of chocolate chips/buttons and then pour over the remaining batter, again smoothing the top to make sure it's all evenly distributed and sprinkle over the demerara sugar and cinnamon mixture. Pop in the oven for 30 – 40 minutes until a skewer comes out clean, cool completely before removing from the loaf tin.