I love trying new ideas with food, so I jumped on the idea of making a raw dish that substituted pasta for fresh strips of courgette. Not only does it cut down the cooking time, but you can prepare it hours in advance, pop it in the fridge and serve when you're ready!
I loved this recipe, it was amazingly fresh and flavorsome.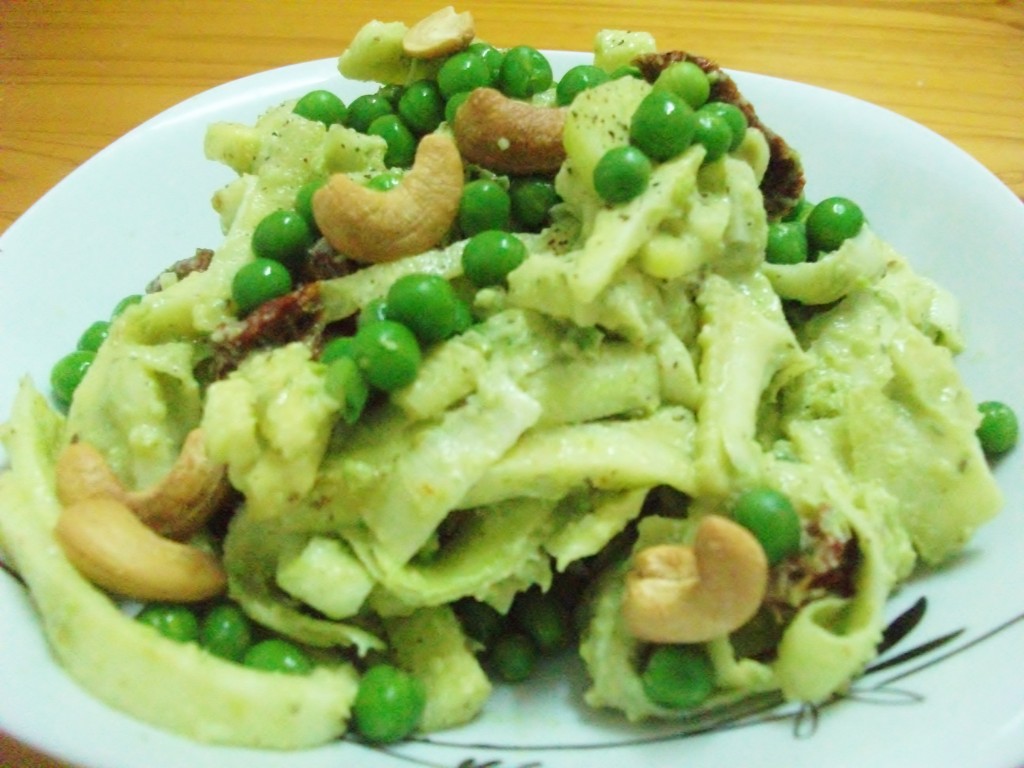 Courgette Pasta with Pea & Basil Pesto (Raw & Vegan)
Raw Pasta:
3 decent sized courgettes
1/2 lemon juiced
Black Pepper to season
For the pea pesto:
2 cups of frozen peas
½ cup of fresh basil (if you can get it, if not use 1 tbsp dried basil)
1 clove garlic finely chopped
1 avocado (ripe so easy to cut)
1/2 lemon juiced
1 tbsp olive oil (I just used the oil from my sun-dried tomatoes)
1 cup of water
To garnish:
Handful of cashew nuts to garnish
5 sun-dried tomatoes chopped
Method
1. Peel the courgettes lengthways, then continue using the peeler to peel strips from the courgette until you start to see the seeds, then using a sharp knife, cut what's left in half lengthways then starts to cut very thin strips.  I like the difference in sizes, gave it a bit of a rustic look. Squeeze half the lemon over the courgettes and season with black pepper and pop in the fridge.
2. For the pesto, take all the ingredients (apart from ½ a cup of frozen peas and the water and oil), pop in a pot and using a hand blender, blitz until nice and smooth then add a little oil and blitz again.
3. Add in the water until you get a consistency you are happy with and stir the mixture into the courgette pasta.
4. Garnish with some cashews (to give it crunch), some sun dried tomatoes and finish with a sprinkling of black pepper.