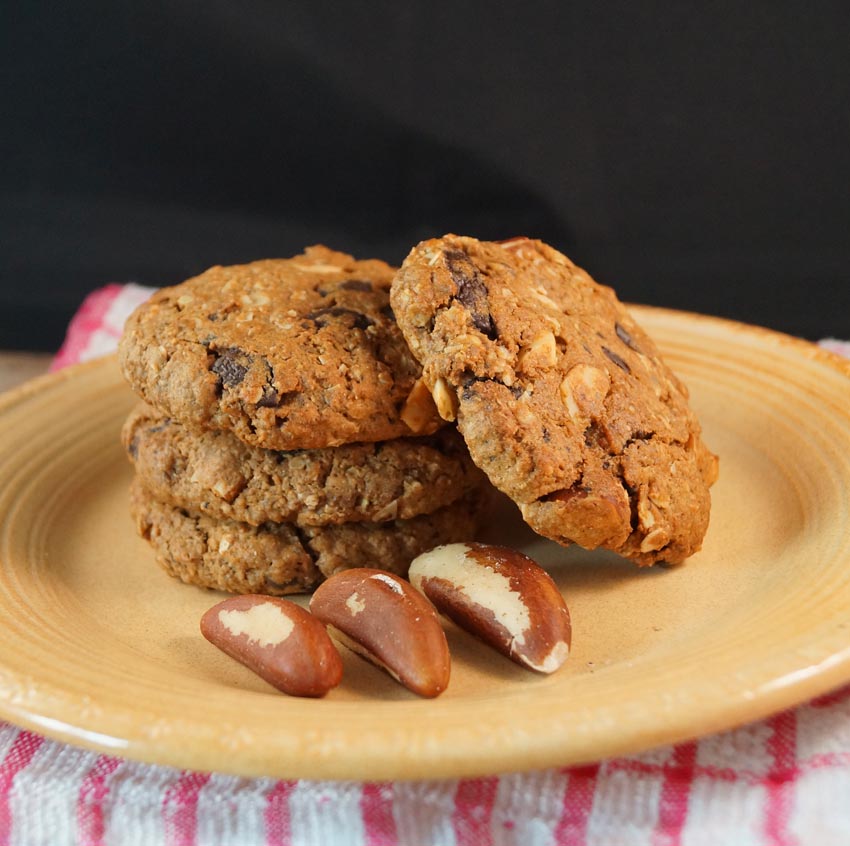 When I made the cookie batter for this recipe and tasted it, it reminded me of the truffles my mum would make when I was younger, she would make coffee and walnut though and they would be huge truffles that she would keep on a plate in the fridge, unguarded, silly mistake! They lasted all but 30 seconds once we knew they were in there!
So it came to me to make some truffles as well using a similar recipe to the cookie dough (recipe to come later once I've taken some pics!) but let's talk about the cookies. These were scrummy, I deliberately took them out the oven while they were still quite soft and just let them cool so I got a lovely consistency, that nice soft chewy cookie. This was my first time using brazil nuts and I'm loving them, so much so, they might be making a regular appearance in cookies and energy bars in the future. Just now there are 6 of them in the fridge that I coated in left over melted chocolate from the truffles, waste not want not I say!
We watched a movie last night, Disconnected, it was a good film but scary. Not in the gruesome sense, more the reality of it, the reflection of growing up in today's "online" society where most of us spend our time on social networking sites and the dangers they can present to the vulnerable. Some gritty realism for a Sunday night!
Coffee & Brazil Nut Chocolate Chip Cookies (vegan with gluten free option)
MyInspiration Feel The Difference Range
Makes 6 Cookies – Ready in 30 minutes
1 cup rye flour (for Gluten Free, use Buckwheat or your favourite GF brand)
½ tsp baking powder
¼ tsp baking soda
½ cup oats
2 tbsp vegan margarine
3 tbsp maple syrup
½ tbsp strong coffee mixed with 1 tbsp water
8 Brazilnuts roughly chopped
¼ cup vegan chocolate chips roughly chopped
Method
Preheat oven to 180 degrees celcius (356 degrees fahrenheit) and line a baking tray.
In a mixing bowl cream together the margarine, maple syrup and coffee then add in the remaining ingredients and fold the mixture together.
Take heaped tablespoons of the mixture and roll into a ball, pressing to flatten slightly and pop on the baking tray, gently press them with your fingers to flatten them out to about 5mm high.
Pop in the oven for 12 -15 minutes. Cool completely, then devour!