It can't be, surely! But yes, yes it is, it's me using my loaf tin again! Coffee and walnut is one of my very favourite cake combinations, they go together so well it would be rude of me not to make it often, so using my trusty side-kick, the loaf tin, I went to work baking this cake and then had a lightbulb moment of cutting it in half and lathering it in beautiful maple frosting, oh the sheer decadence of it!
If you're not a fan of coffee, you could sub it for cocoa powder and make it into a chocolate walnut cake, it's easy enough to do, maybe throw in a few chocolate chips for good measure, the frosting can stay the same as it'll work with most cake types, would have been great in the carrot cake I made last week too, something to bear in mind. The addition of the carob syrup is optional, my original thought process for adding it was to see if I could get a kind of marbled effect in the cake, that didn't work out but the flavour it added was a delightful treat so I'm glad I gave it a go.
Was thinking of doing something Halloween themed tonight, I'd already told Martin that I was going to make some veggie haggis burgers, but I might do a spooky dessert, he's got a scary film planned for us to watch tonight, so we'll definitely need an eerie cookie or slice of cake to enjoy with it!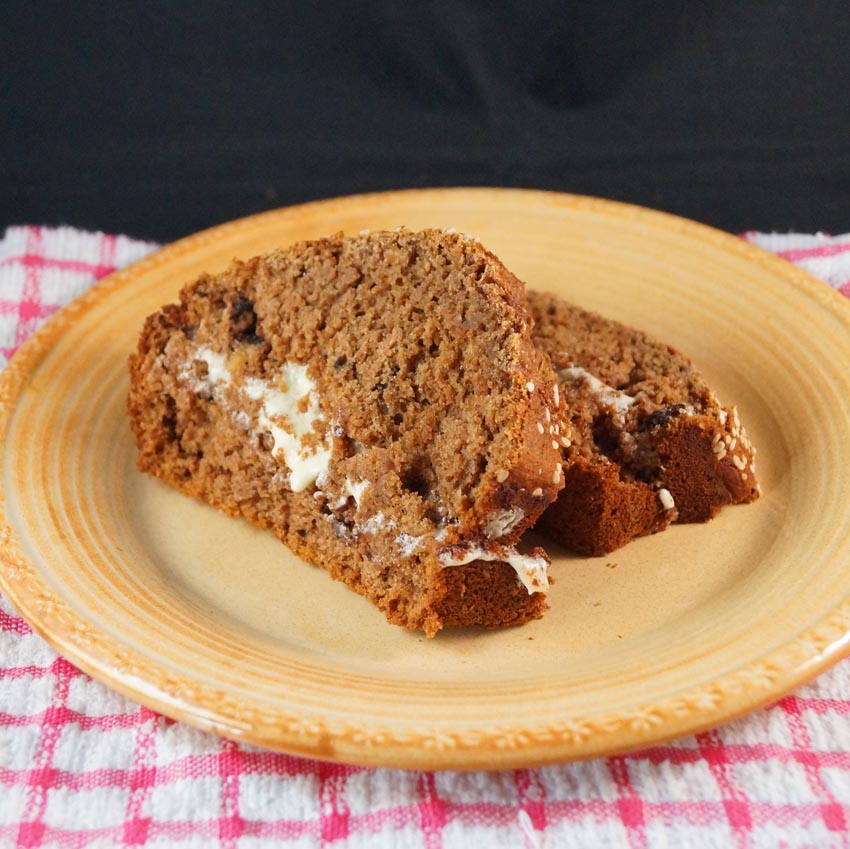 Coffee and Walnut Loaf with Maple Frosting (vegan with gluten free option)
MyInspiration Feel The Difference Range
Makes 10 slices – ready in 1 ½ hours (time needed to cool cake)
For the cake
2 cups wholewheat flour (or use favourite gluten free brand)

2 tsp baking powder

½ tsp baking soda

1 ¼ cups non dairy milk (I used coconut) with ½ tbsp apple cider vinegar

4 tbsp maple syrup

1 ½ tbsp favourite coffee mixed with 1 tbsp cold water

1 tsp cinnamon

¼ cup chopped walnuts

2 tbsp margarine melted

1 tbsp carob syrup

Sesame seeds to top
For the frosting
1 tbsp vegan margarine

½ cup icing sugar (add a little more if it's too gloopy)

1 tbsp maple syrup
Method
Preheat oven to 180 degrees celcius (356 degrees Fahrenheit) and lightly oil a loaf tin (5" x 8.5")

In a small bowl mix together the non dairy milk and apple cider vinegar and leave for 5 minutes then mix through the maple syrup.

In a large mixing bowl combine the flour, baking powder, baking soda and cinnamon, make a well in the centre and pour in the melted margarine (I just popped the margarine in the microwave for 10 seconds) coffee mixture and then pour in the milk/maple mixture and throw in the walnuts and give this all a good stir until everything is well mixed,

Pour the batter into the loaf tin, then drizzle over the carob syrup and using a tea spoon, gently swirl if through the batter, then finish off with a sprinkling of sesame seeds and a dusting of cinnamon and pop in the oven for 35 – 40 minutes, until a skewer comes out clean, Cool completely.

Once the cake has cooled completely, remove from the loaf tin and turn onto its side and carefully, using a very sharp knife, cut the cake in half. Make up the frosting by creaming together the margarine and icing sugar, you have to beat this a while before it comes together, do not add more liquid at this point or it will be too watery, just keep whipping it until it thickens up, then mix through the maple syrup and spread over the bottom half of your cake and pop the top half back on and you're done!