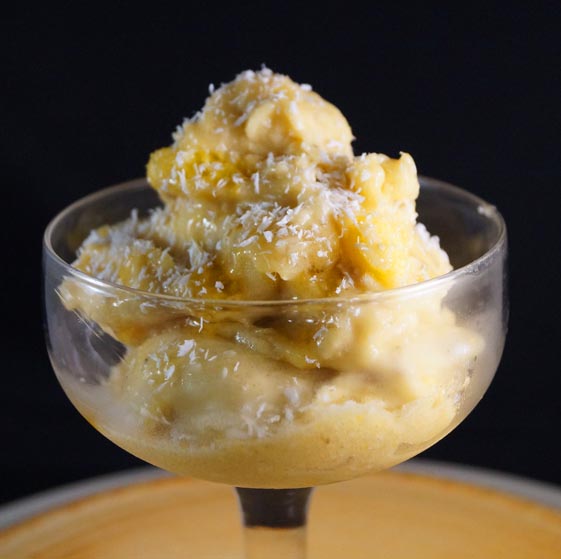 It's been while since I made ice cream so I thought I'd make a quick batch using the mango I had in the fridge, it almost sounds like it should be a cocktail, mango and coconut…. perhaps with a little shot of rum!
I used to believe that you couldn't even attempt desserts like this unless you had all the gadgetry but I still love that you just freeze up your bananas and then blitz them with a hand blender, it's just so ridiculously simple. I'm ashamed I'm not doing it more! In fact, I think this weekend I'm going to make pancakes and chocolate soft serve, oh yes, that sounds about right (what day are we on now??) Note to self: Buy bananas.
I got up super early this morning to go down to the gym for a spin class only to see a note on the door to say they were closed for the bank holiday…. it was a lonely walk back home… on the plus side, went for a nice long walk instead, got a bit of sun on my bones before winter comes (sounds so Game of Thrones "Before Winter comes…", so dramatic).
Coconut & Mango Icecream (vegan & gluten free)
MyInspiration Feel The Difference Range
Serves 2 – ready in 5 minutes if you have frozen bananas!
2 frozen bananas chopped
½ large mango chopped
2 tbsp shredded coconut
2 tbsp maple syrup
½ tsp vanilla extract
Method
The easiest thing imaginable, add everything to a food processor (or use a hand blender like me) and pulse until smooth, serve right away with a cheeky sprinkling of coconut and drizzle of maple syrup.
Don't be shy to try different fruits if you don't have mango, you could have strawberry, blueberry, raspberry, peach, plum etc. Or mix it up with some Mint or Almond extract instead of vanilla, so many choices! I'm off to buy bananas!