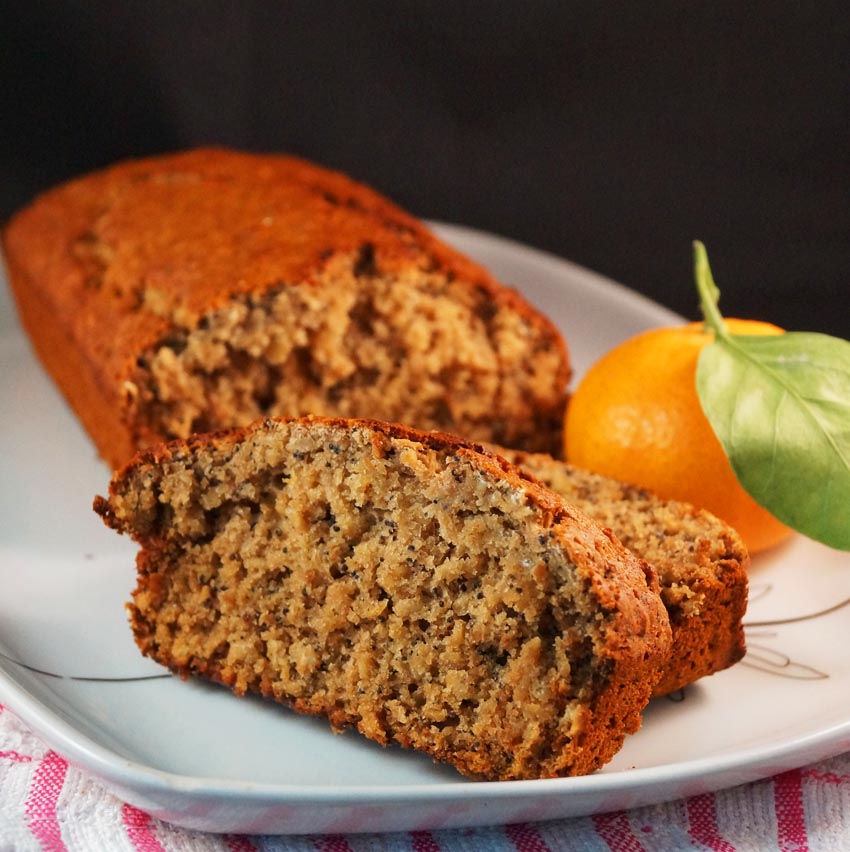 I love Clementine Oranges and usually at this time of year I tend to just stuff them at the bottom of a Christmas stocking to be eaten later on that day, but this is the first time I've baked with them and now, it certainly won't be the last time. I also just noticed that the poppy seeds I picked up at the supermarket were blue (how fabulous) didn't make any difference to the taste, so if you don't see any blue poppy seeds at your local shop just buy normal black seeds instead. You could always use sesame seeds as well, those will give an extra little bit of texture to the loaf if you like that kind of thing.
We came home late last night after watching the football and just had a hankering for a big slice of the loaf smothered in some custard, so tasty. So keep in mind that you can eat this loaf on it's own au naturale, or you can spread a little marmalade on top or like us have it with some custard or some home made ice cream. It works with pretty much everything.
We're heading off to the new mall that's opened in town tomorrow, it's got pretty much everything! There's a cinema (I haven't been to the cinema in a long long time) it's got a wagamama where we can get some avocado sushi, a Holland and Barrett so we can stock on our B12 and maybe get a few extras and I can't wait to do a bit of browsing, it'll be so nice in the run up to Christmas to just go and get little bits and bobs when I need them.
Clementine & Blue Poppy Seed Loaf (vegan & gluten free)
MyInspiration Feel The Difference Range
Serves 8 – Ready in 40 minutes
1 cup buckwheat flour (or Gluten free All Purpose)

1 cup oats

2 tsp baking powder

½ tsp baking soda

2 tsp blue poppy seeds (or just normal black poppy seeds)

¾ cup non dairy milk (I used coconut milk)

½ tbsp apple cider vinegar

4 tbsp maple syrup

1 tsp almond extract

Zest of 1 Clementine

2 Clementine oranges peeled and blitzed in a food processor (then sieve out any pips)
Method
Preheat oven to 180 degrees celcius (356 degrees Fahrenheit) and lightly oil your loaf tin

In a bowl combine the milk and apple cider vinegar and leave for 3 minutes before adding in the maple syrup, almond extract and the Clementine orange mixture.

In a large mixing bowl combine the flour, oats, Clementine peel, baking powder, baking soda and poppy seeds then add the liquid from step 2 and mix this all together until well combined, add a little extra coconut milk if your batter feels too stiff, pour into your loaf tin and pop in the oven for 30 – 35 minutes or until a skewer comes out clean, leave to cool.