Yes, yes, I know, it's supposed to be gingerbread men, but a certain man of the house doesn't like ginger so I thought it was an acceptable trade off to make them from cinnamon. I'd originally thought of making these for Halloween along with a strawberry sauce for gory bits but I didn't get the little cookie cutters I needed, then I saw a post on cookingstoned this week for sweet potato gingerbread men and it reminded me that I was going to bake them and so I finally got around to it.
Looking at my finished product, the men are probably more like stars, but hey, they are the only cookie cutters I could get my paws on, so I went with it! I think they are super cute and actually a little festive with the dusting of icing sugar to finish them off. I seen a post that suggested making a hole in what would be the foreheads and then you can ice them and string them on your Christmas tree as a decorations, I'd never be able to walk past the tree without pinching one so it would be pretty bare come December 25th!
Just watched the film 'Prince Avalanche' with Paul Rudd and Emile Hirsch, I can't actually decide if I liked it or not. I could pretend I'm all cultured and say how fabulous the cinematography was and how the music score really captured the essence of the film, but I think it lacked "something", I kept waiting for something deeper to happen, yes it was funny in parts and the actors are great, but it just felt a little unfinished. Heck, I'm no film critic, I watched Pacific Rim last week and loved it, so that tells you a little about my film choices!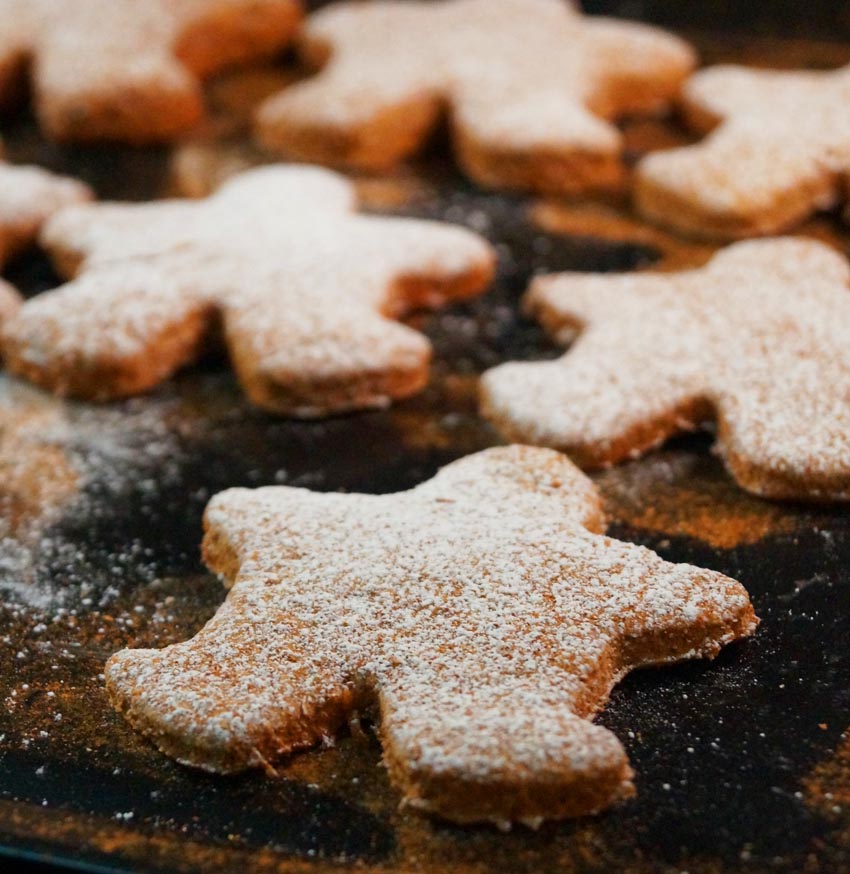 Cinnamon Bread Men with a touch of Orange Zestiness (vegan with gluten free option)
MyInspiration Feel The Difference Range
Makes 12 men – ready in in 90 minutes (60 minutes freezing time)
1 ½ cups wholewheat flour (for gf use your favourite flour, something like buckwheat or a gf all purpose)

¼ tsp baking powder

¼ tsp baking soda

2 tsp cinnamon

½ tsp nutmeg

Pinch of ground cloves

Zest of one orange

1/3 cup non dairy milk (I used coconut)

2 tbsp vegan margarine melted

3 tbsp Maple Syrup

1 tbsp carob syrup (or molasses) just to give a deeper colour
Method
In a bowl combine the coconut milk, maple syrup, carob syrup and orange zest.

In a large mixing bowl combine the flour, baking powder, baking soda, cinnamon, nutmeg and ground cloves, add the wet ingredients to the dry along with the melted margarine and mix all together until a stiff dough forms, you might need to add a tbsp or 2 of flour if your mixture is too sticky.

Roll the dough into a ball, flatten slightly, wrap in cling film and pop in the freezer for an hour.

Preheat oven to 180 degrees Celsius (356 degrees Fahrenheit)

On a floured surface, roll out the dough to about 3mm thickness and using a gingerbread man cutter, cut out your cookies, I got 12 men from my dough. Use a spatula to lift from the floured surface and place on a non stick baking tray (or a lined baking tray) sieve over some cinnamon and pop in the oven for 10 – 12 minutes, then cool completely and dust with a little icing sugar.