We're in Bath this week and staying in a lovely little apartment that has an AWESOME kitchen. But, we've actually been so busy doing the tourist thing which has meant that I've not had a lot of time to spend cooking, but I was determined to do something while I'm here, so after a fabulous day out to Stonehenge and Salisbury, we got home and I went to work on using some of the beautiful rhubarb I bought at the supermarket.
Ideally I would have loved to have stopped at the little stall just outside Stonehenge that was selling fresh cherries and strawberries, but typically I only saw this out the back window on the bus ride back into town!
I'm not too sad though as I was chuffed to have actually got my hands on some rhubarb, it's not something I see a lot of and I have never used it before to cook, so this was a great chance for me to have a go at it. I would have made a crumble, but it would mean buying a load of ingredients that I was never going to use up and I don't like wasting food, so went for a more simple option that kept ingredients to a minimum but gave me a great pudding!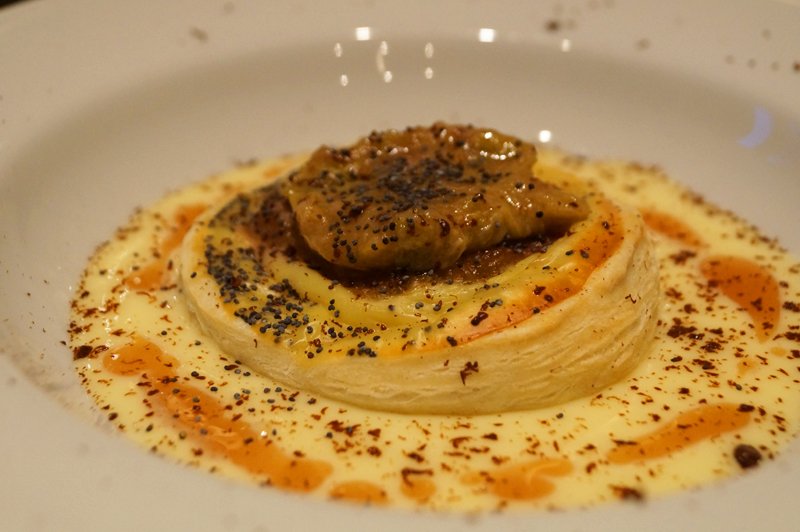 Cinnamon Spiced Rhubarb Tartlets served with Custard, Rhubarb Jus and shavings of Dark Chocolate (vegan)
MyInspiration Feel The Difference Range
Serves 4 – ready in 40 minutes
For the pastry
200g Jus Rol Puff Pastry (make sure it's the vegan friendly pack)
Filling
3 sticks rhubarb chopped into 1cm cubes
1 tsp cinnamon
1.5 tbsps demerara sugar
1 tsp poppy seeds
4 tbsp Alpro Ready Made Custard
Topping
2 small squares of your favourite dark chocolate, grated
1 cup of Alpro Ready Made Custard (or you can make your own, I bought ready made as it was easier for me being on holiday!)
Method
1. Preheat oven to 180 degrees celcius (356 degrees fahrenheit) and line a baking tray with parchment paper.
2. Roll out the pastry to 1cm thickness and using a 2.5″ pastry cutter, cut out 4 circles (you will have to re-roll pastry to get the last circle out) then using a rolling pin just lightly roll the circles out to flatten a little more, to around 5mm thickness.
3. Prepare the filling – In a medium sauce pan over a medium heat, add the chopped rhubarb, sugar and cinnamon along with 2 tbsp water and let this cook for approx 10 minutes, giving it a good stir until the rhubarb starts to soften and break up. Remove from heat and put the mixture through a sieve over a bowl to catch the juice (this will become your rhubarb jus) and you are left with just the beautiful fruit of the rhubarb in the sieve.
4. To prepare the tarts, pop the pastry onto the baking tray and using your thumb and first finger, pinch the sides of the pastry all the way around to make a slight ridge. Now spoon 1 tbsp of the ready made custard into the centre of the pastry then top this with 1/2 tbsp of the rhubarb fruit, scatter over some poppy seeds and bake for 15 -18 minutes (or until the pastry is lovely and golden).
5. To set up the dessert, heat up the remaining 1 cup of custard and spoon into the serving bowls, place a tartlet into the centre of each bowl, spoon another 1/2 tbsp of the rhubarb fruit on top, then drizzle the rhubarb jus around the edges and top with the grated dark chocolate and tah dah!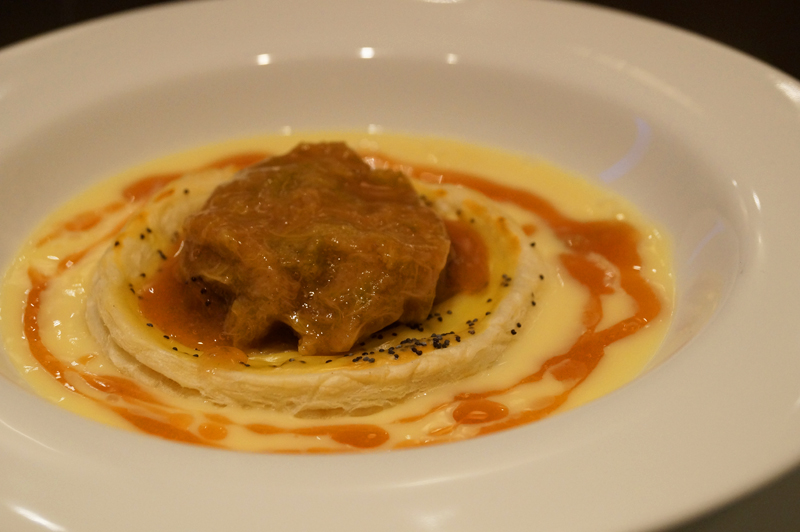 Here is the tart before I added the additional poppy seeds and chocolate, just as lovely like this!