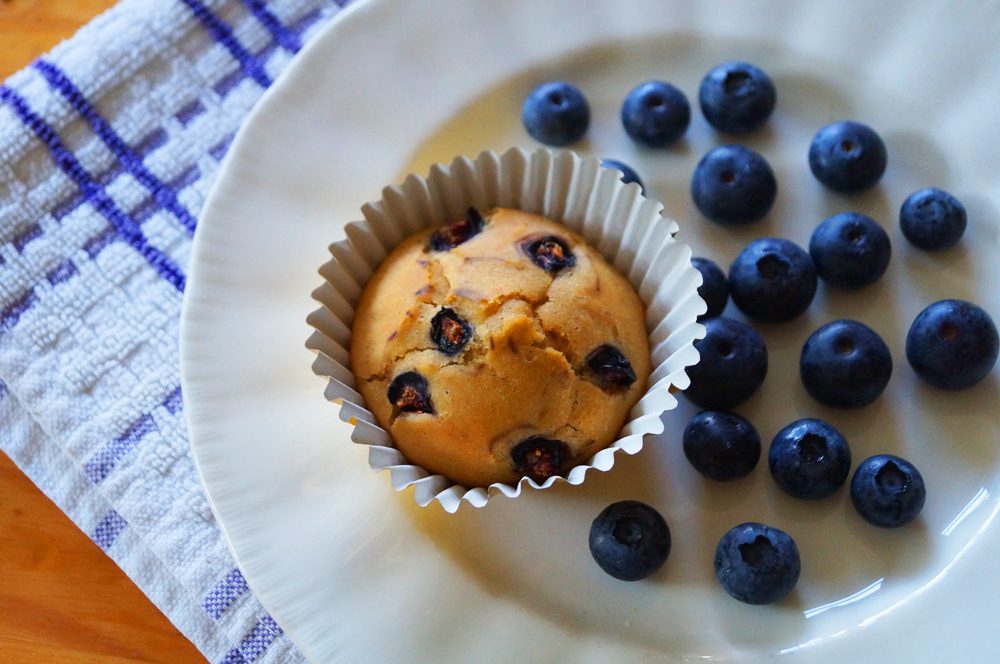 Can you tell I'm using someone else's kitchen… it's all cakes and puddings just now! I've wanted to make blueberry muffins for such a long time and finally I've gone and done it! I shall hold my hands up now and say my first batch was a complete disaster, too much liquid and I overloaded them with blueberries which then released even more juice so the muffins were super squishy (still tasty, especially with a big dollop of vanilla alpro yoghurt on top!) but nothing even resembling muffins.
So I rejigged the recipe and they came out fabulously, consistency was right, just a few blueberries on the top instead of mixed all the way through, little less almond milk, job done! It's also amazing the difference baking cakes and muffins in silicone cases is, they just seem to come out perfect everytime. (I should say my first "disaster" batch was done in little paper cases, it was before I bought my cupcake kit!)
Just booked myself in for a JNL Fusion class at my old school friends gym in Edinburgh, I just hope I can keep up… really looking forward to it, it's been 16 years since I saw Bridget last, tempus fugit.
Cinnamon Spiced Blueberry Muffins (vegan & gluten free)
MyInspiration Feel The Difference Range
Makes 8 Muffins – ready in 30 minutes
1 & 1/4 cups self raising flour (I used Doves Farm Gluten Free from Sainsbury's)
3/4 cup non dairy milk (I used almond milk) mixed with 1/4 tsp apple cider vinegar
2.5 tbsp maple syrup
1/2 tsp cinnamon
1 tsp vanilla extract
16 blueberries cut in half
Method
Preheat oven to 180 degrees celcius (356 degrees Fahrenheit) and line a muffin tray with 8 cases (preferably silicone!)
In a small bowl, combine the almond milk, apple cider vinegar, vanilla extract and maple syrup and give it a good stir, then in a large mixing bowl, combine the flour and cinnamon then add the wet ingredients to the dry and fold together, it should be quite a thick batter, if it's too loose add a little more flour.
Spoon the mixture into the cases until they are 3/4 full, then sprinkle 4 blueberry halves on top of each case and bake for 20 – 25 minutes until they are slightly firm to the touch. cool and enjoy!!
You can see the difference in my photos, I don't have my light box here, so I'm relying on the natural light coming through into the kitchen, I do love having my mother in-laws plate sets and tea towels to accessorise with though!