Thought I would post up this lovely little recipe for Spiced Apple Crumble Muffins that I made earlier this week, we just finished them off last night, they were so good. The tart granny smith apples were great for this recipe, and teamed with the raisins, cinnamon and a few poppy seeds, they were very pretty to look at too which is always a bonus. What is it they say, "you eat with your eyes first", if that was the case I'd be the size of a house as I look at a LOT of food everyday.
I'm trying out a recipe from someone else tonight, Martin seen a dish on pinterest and decided that's what he wants for dinner, so we're following mouthwateringvegan and going for the Spicy bean & lentil casserole with walnut and garlic balls, it sounds and looks utterly delicious and I'll tell you how I get on!
I ache today, a beautiful, muscly ache that feels great. I'm not in pain, that would be a bad thing, but we did the new release of CXWORX last night and boy am I feeling it. I thought it would just be my abs that would feel tender this morning as there were some hardcore moves in the set, but my triceps are screaming out "Goodbye Mr & Mrs Bingo Wings"! The one thing I'm loving about this class is that it's done and dusted in 30 minutes and I'll be able to do this even if I'm not at the gym, just me and my resistance band and we're on our way to a great workout.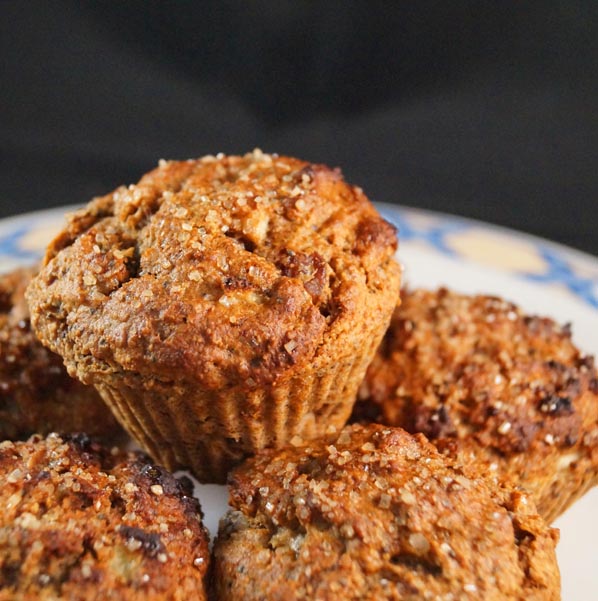 Cinnamon Apple Crumble Muffins (vegan with gluten free option)
MyInspiration Feel The Difference Range
Makes 6 muffins – ready in 30 minutes
1 cup rye flour (for gf use favourite brand)

¼ tsp baking soda

1 ½ tsp baking powder

1 tsp cinnamon

¼ tsp ground nutmeg

2 tsp poppy seeds

¾ cup canned coconut milk with ½ tbsp apple cider vinegar

3 tbsp maple syrup

¼ cup chopped apple

¼ cup raisins

Demerara sugar to top
Method
Preheat oven to 180 degrees celcius (356 degrees Fahrenheit) and prepare a muffin tray. I use silicone muffin cases in my tray.

In a bowl combine the coconut milk, apple cider vinegar and maple syrup.

In a large mixing bowl combine the flour, baking soda, baking powder, cinnamon, nutmeg, poppy seeds, chopped apple and raisins, mix this all together making sure the apple pieces are nicely coated. Make a well in the center and pour the liquid from step 2 and stir this together to form a stiff batter.

Using a cookie dough/ice cream scoop, spoon the batter into the muffin cases until they are filled right up, sprinkle over a little demerara sugar and pop in the oven for 12 – 15 minutes or until a skewer comes out clean. Leave to cool, if you can!