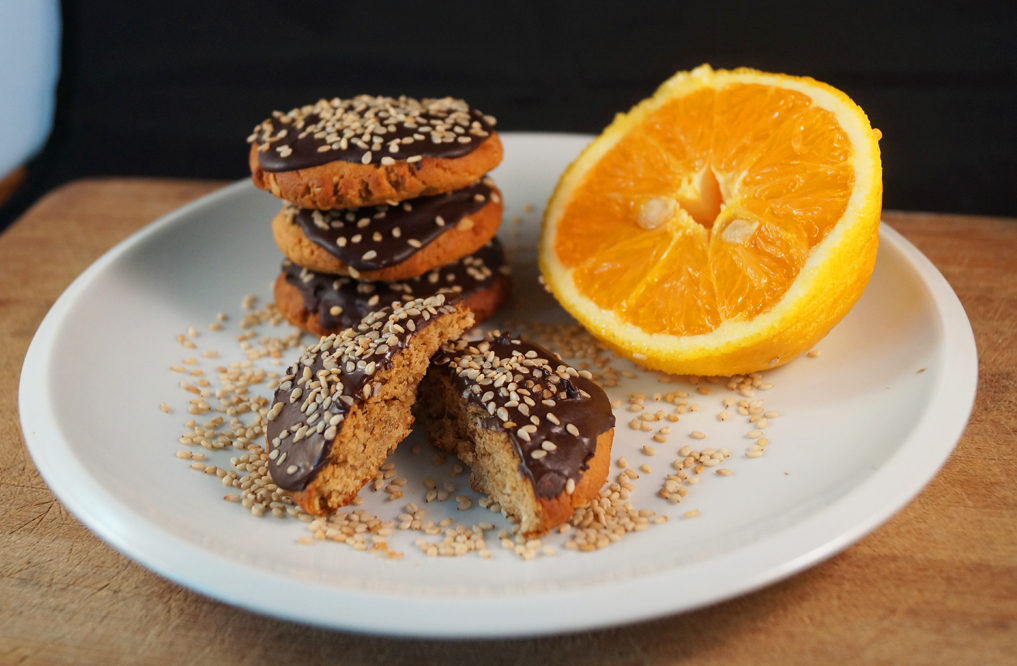 This is yet another recipe from last week (I've been storing them up for you, so I can post recipes while I'm travelling). These cookies are lovely and quite crumbly too which I like in a biscuit. The oranges were enormous and so juicy and we all know that chocolate orange is a winning combination every time!
I went on the hunt yesterday for some buckwheat flour but couldn't find it in any of the shops I visited, I think I might need to go to a specialist health shop, but I did have a good look round and there's a lot of "free from" ranges where they do Gluten Free white flour and all purpose, I might have to try them out and see what they are like so I know if they are a good alternative if anyone asks! I did however end up buying some rice flour and made a beautiful batch of choc chip muffins, so recipe will be coming tomorrow for these, the consistency of these muffins was just yummy.
I also bought myself a cheeky little cupcake kit which came with all the silicone cupcake cases, an icing pack, icing spatula and some decorative discs for icing, so I was most pleased!! Need to sneak one in my bag for the journey home.
Chocolate Orange Oat Cookies with a Scattering of Sesame Seeds (vegan gluten free)
MyInspiration Feel The Difference Range
Makes 8 cookies, ready in 40 minutes
2 tbsp peanut butter
2 tbsp maple syrup
Pinch of Mixed Spice
Zest and juice of one orange
3/4 cup Buckwheat flour
1/3 tsp baking powder
1/4 cup oats
35g dark vegan chocolate
1 tbsp sesame seeds
Method
Preheat oven to 180 degrees celcius (356 degrees Fahrenheit) and line a baking tray with parchment paper
In a mixing bowl mix together the peanut butter and maple syrup, then add in the orange zest and juice and Mixed Spice and stir this together, now add in the flour, baking powder and oats and give it a good mix, it should come together nicely to form a stiff dough, if it's too dry add a little more orange juice until it comes together into a workable consistency.
Shape the mixture into 8 cookies and place on the lined baking tray (I then took a fork and lightly pressed the cookies down to flatten them out a little) then bake for 12 – 15 minutes, until lovely and golden. Cool for 10 minutes while you melt the chocolate in a bain marie, then take each cookie and dip the top of it in the melted chocolate, use a spoon to smooth it out if you need to, then sprinkle over the sesame seeds and let them cool.