I bought a new muffin pan and wanted to try it out but little did I realise that the first thing I would make in them wouldn't be muffins! I decided to go down the no bake road (purely because the weather is silly hot again and I didn't want to be faffing about with the oven!).
These scrumptious beauties were so easy to prepare and are (well in my opinion) a decadent treat, that's nice to make every now and again.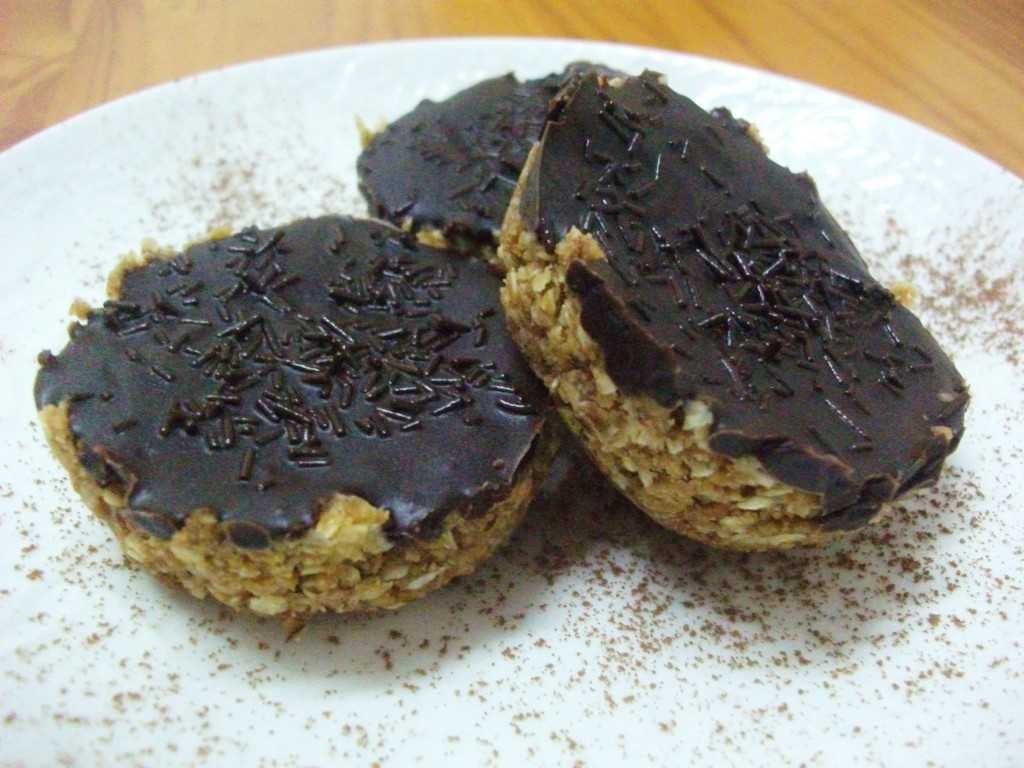 Chocolate, Date & Oat Beauties!
A vegan, no bake treat
Makes 8 Servings
Ingredients
2 cups rolled oats
10 pitted dates
1/2 cup smooth peanut butter
4 tablespoons maple syrup
2 teaspoons vanilla
1 teaspoon cinnamon
Topping
150g dark chocolate (just pick your favourite vegan choc)
3 tablespoons almond milk
½ teaspoon vanilla
1 tablespoon dark chocolate vermicelli/sprinkles – or you can just grate up a little more of your chocolate
Method
1. Combine the oats, dates, peanut butter, vanilla, maple syrup and cinnamon in a food processor and blitz until a stiff dough comes together, grab about a tablespoon worth of mixture and squish it into a ball, if the consistency is correct it will keep its form, not fall apart. If it falls apart, it's too dry so add a little more maple syrup until you get the consistency you want, if it's too wet (it shouldn't be using the above measurements) but just in case, you can add some more oats.
2. Using a muffin tin, line each space with tin foil and pack the oat & date mixture tightly into each space, pressing it down so that it's all compacted in and forms the base of your beauties, it should fill each casing about half way.
3. To make the topping, break up the chocolate and pop in a microwavable bowl and microwave for a minute, set aside, then put the 3 tablespoons of almond milk into the microwave and cook or 30 seconds until it boils, then add it straight in to the bowl of chocolate and add the half teaspoon of vanilla, after a few minutes give it a stir, it should be lovely and smooth once you've mixed it through.
4. Using a dessert spoon, take one spoonful of the chocolate cream and pour it on top of each base, using the spoon to smooth it out and cover the whole thing, then sprinkle the top with the vermicelli and pop in the fridge for an hour for them to set.
These are seriously delicious, so keep an eye on them, as they will mysteriously disappear every time someone goes into the kitchen….
Original recipe here