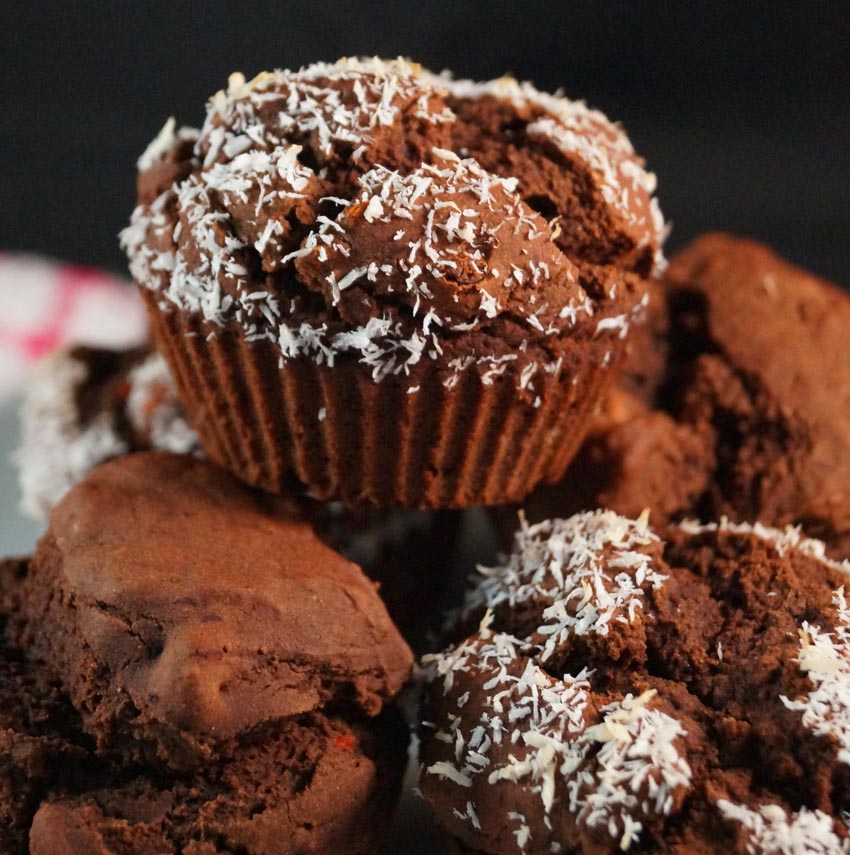 Oh the simple joys of a bag of buckwheat flour, oh how I have missed thee. I am back to baking my muffins with my favourite flour and I know it's just a small thing, but I just love the taste of cakes and cookies that I've made with buckwheat. I bought 2 bags of it on Monday and I'll be passing that awesome supermarket next week so will pop in and buy another 2 bags, just in case they decide to disappear from the shelves there too! I have a lot of Christmas/Festive baking I want to do so need to have it in stock so I can keep us in Christmassy treats.
These particular muffins were luscious, beautifully tasty and the goji berries worked fabulously with the cocoa and coconut, I'm thinking that I might try lemon zest and goji muffins next time, maybe with a sprinkling of sesame seeds on top, nom nom! With this batch I only sprinkled coconut on my share of the muffins, Martin drizzled a little forest fruit coulis over his, cheeky beggar that he is!
Just skyped my little sis to catch up on how her clan are doing, my nephew is at the potty training stage and is having none of it, so she has to think of ways to get him interested in the process, so glad I'm just an aunty, I'd be less than useless in those situations! She's also got her 3 month scan on Monday and I'll be waiting to see her little 4D scan photo (those scans are awesome by the way!). She hasn't mentioned any crazy cravings yet, no doubt they'll be along soon and as this is her third baby I imagine she's well prepared for them. She'd finish my cakes off in no time if she could get her mitts on them!
Chocolate, Coconut & Goji Berry Muffins (vegan & gluten free)
MyInspiration Feel The Difference Range
Makes 6 Muffins – Ready in under 30 minutes
1 cup buckwheat flour

1.5 tsp baking powder

½ tsp baking soda

½ tsp cinnamon

3 tbsp cocoa powder

1 cup non dairy milk (I used coconut) mixed with ½ tbps apple cider vinegar

1 tbsp vegan margarine, melted

1 tsp vanilla extract

4 tbsp maple syrup

¼ cup goji berries

1 tbsp shredded coconut
Method
Preheat oven to 180 degrees celcius (356 degrees Fahrenheit) and prepare a muffin tray (I use silicone muffin cases in my tray)

In a bowl combine the coconut milk and apple cider vinegar and leave for 3 minutes, then mix through the vanilla extract and maple syrup.

In a mixing bowl combine the flour, cocoa powder, baking powder, baking soda, cinnamon and goji berries, mix this all together, then add the liquid from step 2 and the melted margarine, stir this until it starts to form a thick cookie batter, if it's too stiff, add a tbsp more milk at a time until you are happy with the consistency. Spoon the batter into the muffin cases, almost to the top, make them nice big muffin, sprinkle over the coconut and pop in the oven for 12 – 15 minutes or until a skewer comes out clean. Cool and enjoy.