It's a midweek cookie recipe and these are a delicious addition to an afternoon cup of tea! I've got a cupboard full of different nuts and wanted to use the hazelnuts and you just have to team that up with some chocolate don't you!
This is a very quick and easy recipe, they're done in 30 minutes, leave them to cool (if you can resist) I've burnt my mouth so many times in the past from being an eager beaver and eating what I bake pretty much while it's on the way from the oven to the kitchen worktop! I don't think I'll ever learn!
So, last night I didn't get a chance to fall asleep during the meditation stage of Body Balance, we were all lying on our mats, totally relaxing, our instructor Soula had turned down the lights, the gentle music was playing and then just as soon as we were all settled, a PHONE started ringing, that real generic mobile ring tone you get, that's truly quite irritating. Well, absolutely no one was moving to either answer it or switch it off and I just couldn't stop giggling to myself as I knew that there was someone in the room who must have been holding their breath just wishing that it would stop. Still a great class though!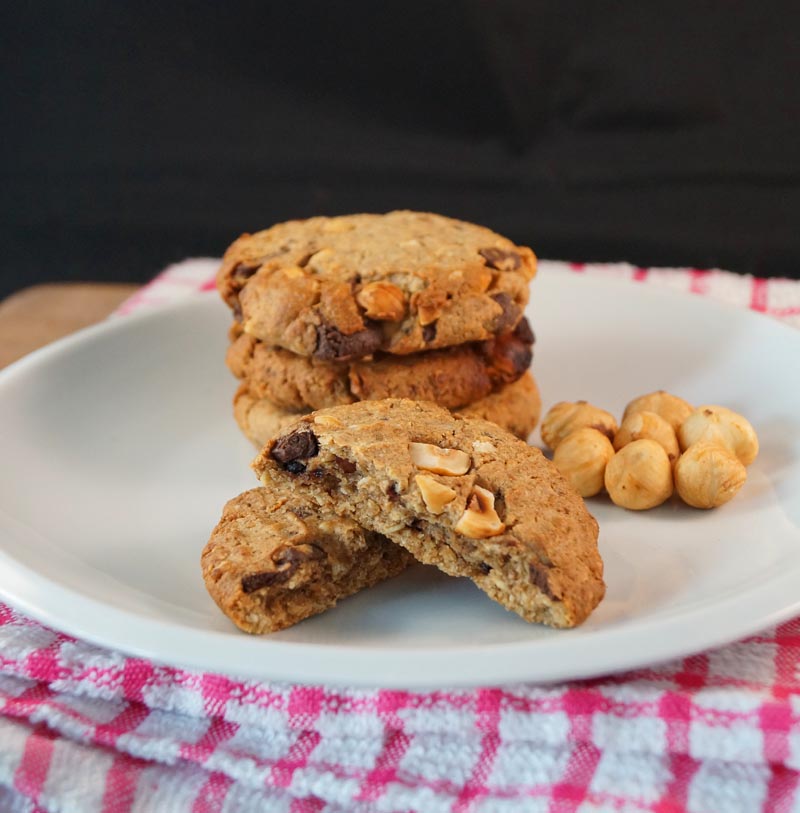 Chocolate Chip Praline Cookies (vegan & gluten free option)
MyInspiration Feel The Difference Range
Makes 6 cookies ready in 30 minutes
1 cup rye flour (for Gluten free, sub for Buckwheat flour or other GF brand you like)

2 tbsp margarine

3 tbsp maple syrup

½ tsp vanilla extract

10 hazelnuts chopped

20g vegan dark chocolate, roughly chopped

½ cup oats
Method
Preheat oven to 180 degrees celcius (356 degrees Fahrenheit) and line a baking tray with parchment.

In a mixing bowl mix together the margarine, maple syrup and vanilla extract until it's all combined, then add in the flour, oats, chopped chocolate and hazelnuts and again stir together. Take heaped tbsp of the dough and roll into a ball and pop on the baking tray, using a fork gently flatten the cookies out.

Pop in the oven for 15 minutes until lovely and golden. Remove from oven and cool.