I hunted high and low for some fresh cherries but had to make do with canned instead, but the muffins turned out a treat, so if you can't get fresh cherries don't worry about it, try and get cherries that are in their own juice as opposed to in syrup though.
I only used half a can of cherries in this recipe and used the other half for a raw recipe I'm making later on today, so keep en eye out for that coming.
It's just over 3 weeks until I go and visit my sis and little nephew, getting excited but nervous at the same time, my mum's been telling me that my nephew is a right little  lad and I should protect my shins at all costs!  We don't have kids, nor am I blessed with a maternal nature, so if the kid kicks me, he's getting a stern aunty glare and I might even sulk for a little bit for effect… I too can still be childlike!
In laws arrive tomorrow night, so I think 'll make that batch of Millionaire's shortbread again in the afternoon, ready for them coming, nothing says welcome than a nice cup of tea and sweet treat!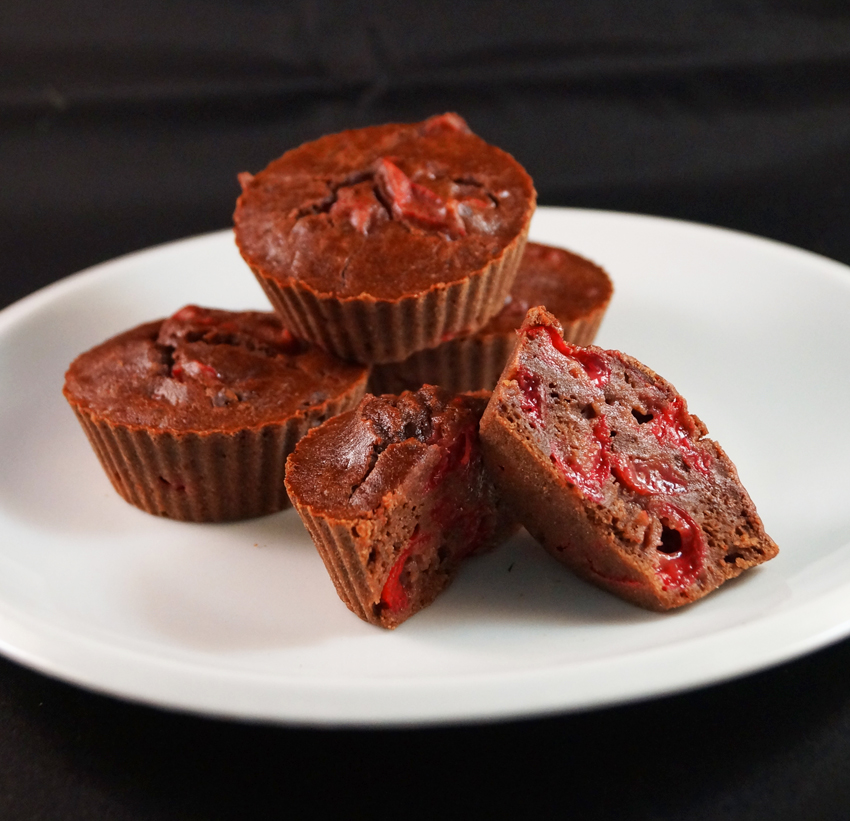 Chocolate Cherry Muffins (Vegan & Gluten Free)
MyInspiration Feel The Difference Range
Makes 6 Muffins – ready in 30 minutes
3/4 cup buckwheat flour
1/2 tsp baking powder
3/4 cup non dairy milk (I used hazelnut) mixed with 3/4 tsp apple cider vinegar
1 tsp vanilla extract
Half a can of cherries (or 10 fresh), de-stoned and quartered
2 tbsp maple syrup
2 tbsp cocoa powder
Method
1. Preheat oven to 180 degrees celcius and line a muffin tray with 6 cases
2. In a bowl, combine the milk and vinegar, plus the maple syrup and vanilla
3. In a large mixing bowl, combine the buckwheat flour, baking powder and cocoa powder, then add the wet ingredients to the dry and fold together before adding in the cherries, you might want to add a little more milk if the mixture is to dry and sticky. Pour the mixture into the muffin cases, abotu 3/4 of the way up, they will rise slightly so give them room.
4. Pop in the oven for 20 – 25 minutes or until a skewer comes out clean, remove from heat and serve.
*** Even better, they are only 105 calories each!!