Almonds…. yummy, I'll eat almonds and marzipan all day long if I could and I love to bake with them, they are sublime in cookies and cakes and with a little help from some almond extract, well, need I say more, a taste sensation! My mouth has just started to water just thinking of these muffins (now long eaten!!).
You can make these muffins very easily without the frosting, they are still lovely and airy so don't worry if you just want them au natural! You could still dust with a little icing sugar for a little added sweetness if you so wish! Forgive my icing, I lost the nozzle I usually use for my icing pipe and had to make do with a teeny tiny nozzle instead which still does the job just looks a bit skinny!
Had a quick trip out to my local charity shop to get some books, they've got a summer clearance where everything is a euro, so stocked up on a few books, John Grisham and a Dean Koontz, looking forward to reading them! Just disappointed I didn't know earlier about the sale as the shelves were practically bare when I got there, the guy behind the counter was a little put out that I got the John Grisham book as he'd been looking for it, so I've promised to take it back when I've read it!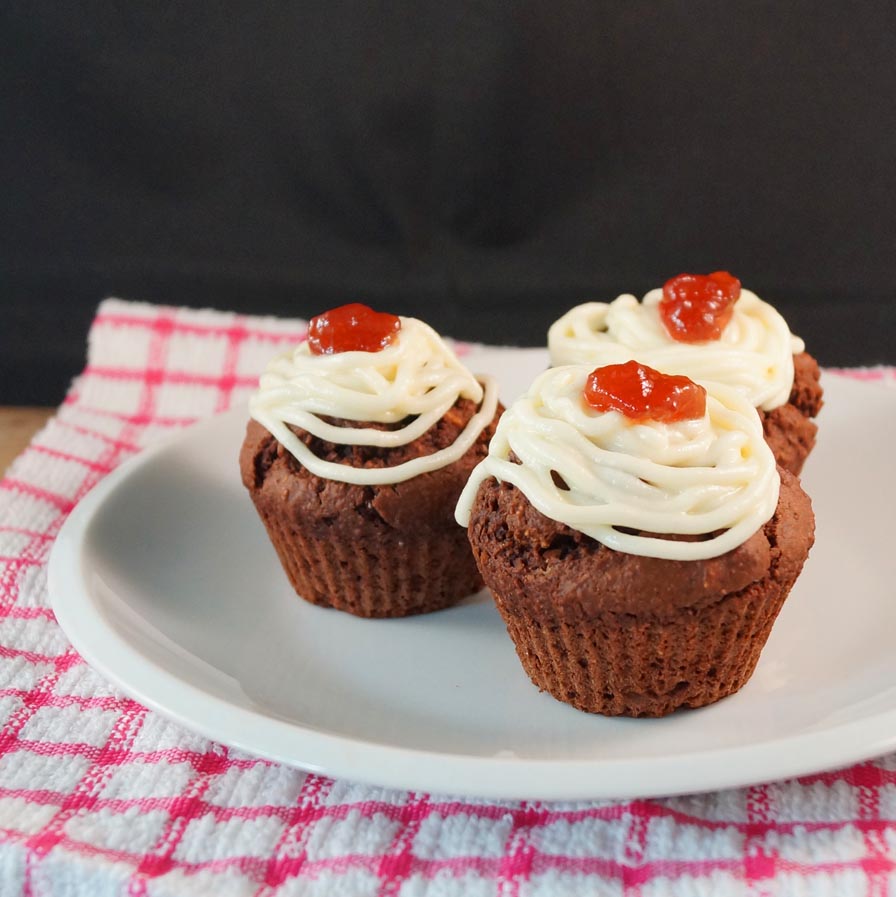 Chocolate Bakewell Muffins with Almond Frosting (vegan & gluten free option)
MyInspiration Feel The Difference Range
Makes 6 cupcakes – ready in an hour and a half (needs time to cool before frosting)
1 Cup Rye flour (or for GF use Buckwheat or Rice Flour – if using rice flour add a little more almond milk)

2 tbsp corn flour

1 tsp Baking powder

¼ tsp baking soda

3 tbsp cacoa powder

3 tbsp maple syrup

1 tsp Almond extract

½ cup non dairy milk (I used Alpro Almond milk)

½ tbsp apple cider vinegar

2 tbsp vegan margarine – pop in the microwave for 20 seconds to melt

16 almonds roughly chopped
Frosting
½ tbsp vegan margarine

1 ¼ cups icing sugar

½ tsp almond extract

½ tbsp maple syrup

1 ½ tsp water
Topping
½ tsp cherry or strawberry jam to top each muffin
Method
Preheat oven to 180 degrees celcius (356 degrees Fahrenheit) and prepare your muffin tray – I used my silicone muffin cases.

In a mixing bowl combine the flour, baking powder, baking soda and cacao powder. In a separate bowl combine the almond milk, apple cider vinegar, almond extract, melted margarine and maple syrup, then add this to the dry ingredients along with the chopped almonds and stir this all together. It should be a nice thick batter, spoon this into the muffin cases until they are full, then pop in the oven for 20 – 25 minutes until they have risen and are firm to the touch, let them cool completely before frosting.

For the frosting, beat all the ingredients together in a bowl, I then used an icing pipe to frost my cakes, or you could just use a blunt knife to smother the cake in frosting, then add a little dollop of jam in the centre.