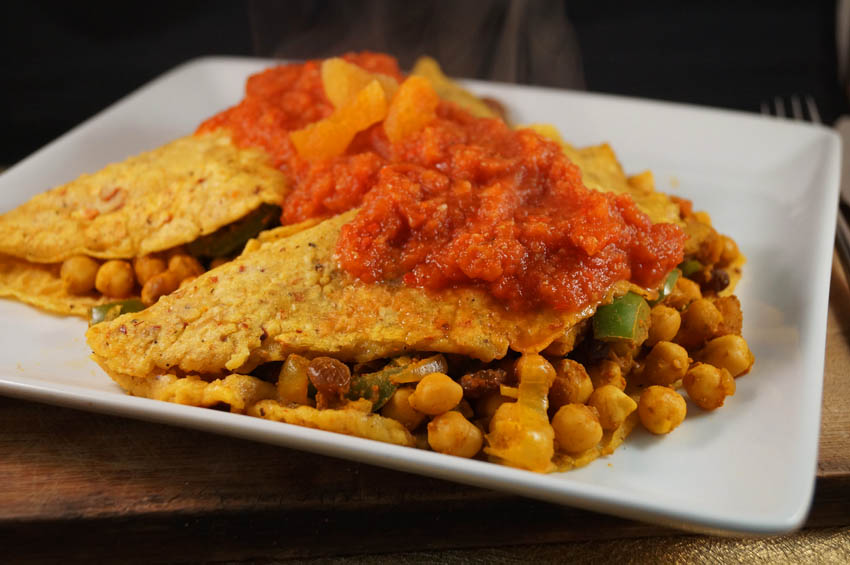 I thought I'd try something a bit different and I haven't made savoury crepes before and this dish just seemed to come together very nicely. It's a very simple recipe that's also pretty cheap so is ideal for dinner parties or a tasty family meal. One small addition I would make next time is to mix some spinach through the chickpea blend to add a few more nutrients, unfortunately I left it off my shopping list and forgot all about it. A great excuse to make this again.
I'm going to be without the use of a kitchen while I'm visiting the family, but quite looking forward to trying out some vegan cafes and restaurants in the London and Edinburgh areas, I've already got in mind an afternoon tea with my nan after being recommended a place where they happily accommodate vegan dietary requirements, she's going to love it, I cant wait!
Also going to head through to Glasgow hopefully, grab a bite to eat there and then shopping on Sauchiehall Street. These next couple of weeks are going the be jammed packed, I'll need a holiday from this break away!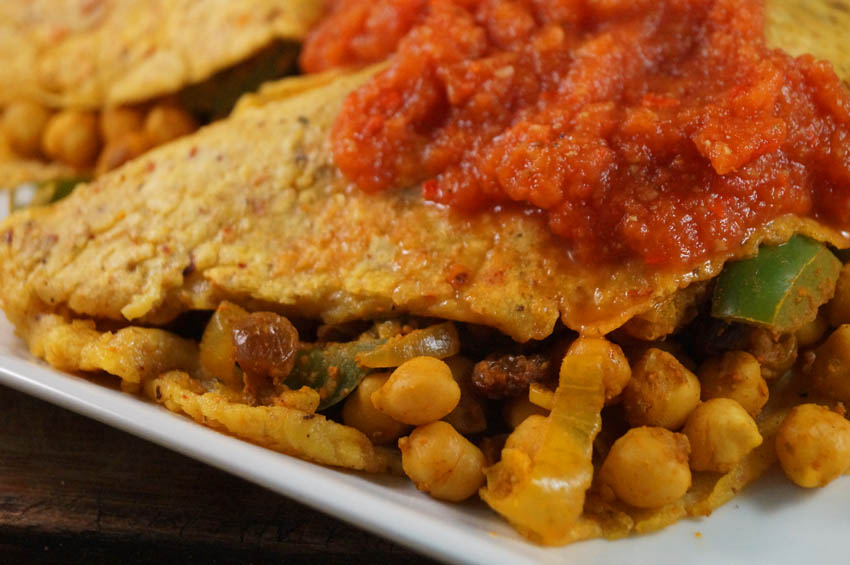 Chilli Crepes stuffed with Moroccan Chickpeas and Apricots topped with a Spicy Sauce (Vegan with Gluten Free Option)
MyInspiration Feel The Difference Range
Serves 2 – Ready in 40 minutes
For the Chickpeas
½ onion finely chopped
2 garlic cloves finely chopped
2 green peppers (capsicum/bell pepper) chopped
2 tsp cumin
½ tsp cinnamon
1 tsp ground coriander
2 tsp turmeric
½ tsp black pepper
½ tsp paprika
3 cups cooked chickpeas
5 dried apricots chopped
¼ cup raisins
For the Spicy Sauce
1 can chopped tomatoes (pop through a colander to get rid of the liquid)
½ onion finely chopped
2 hot red chillis chopped
2 garlic cloves finely chopped
1 tsp lemon juice
!/2 tsp Demerara sugar
1 tsp cumin
1 tsp ground coriander
For the Crepes
1 cup wholewheat flour (for GF use Gluten free plain flour)
¼ tsp baking powder
2 ¼ cups water
1 tsp chilli flakes
½ tsp turmeric
½ tbsp vegan margarine (split into 4)
Method
For the Chickpeas – Add 2 tbsp water to a large deep sauté pan over a medium heat and add the onion and garlic and cook for 2 minutes before adding in the cumin, cinnamon, ground coriander, turmeric, black pepper and paprika, stir this all together then add in the chickpeas along with ¼ cup of water, green pepper, apricots and raisins, turn the heat down to low and cook for 25 minutes, stirring occasionally (this should be quite a dry mixture, you don't want it all slushy).
For the Sauce – Add all the ingredients into a food processor and pulse until smooth, pour into a sauce pan and cook over a low heat for 15 minutes, stirring occasionally. Remember to taste the sauce and if you like, add a little more lemon juice or black pepper to suit your tastes.
For the crepes – Add all the ingredients to a mixing bowl and whisk together, you want it to be a nice runny consistency, a touch thicker than say coconut milk. Heat a large sauté pan over a medium/high heat, add a little vegan margarine to the pan and ladle in a quarter of the crepe batter, it'll spread right out in the pan, so it's nice and thin, cook for 60 – 90 seconds on each side. You want to get 4 crepes from the mixture.
To serve, spoon the chickpeas into the crepes and fold over and pour over the spicy sauce and serve immediately!