I could eat chickpeas all day long, they are such a wonderfully versatile legume, whether you're adding it to a salad, curry, burgers or blitzing it up into some wonderful hummus or roasting them for a quick snack, you can do pretty much anything with them. So it's not surprising that we use them in so many of our recipes especially with them being packed with the good stuff: good source of protein, fibre, calcium, iron etc what's not to love!
I had a strange time with my sweet potato yesterday, it was white inside. I'm used to them being more orange coloured, but the 2 I had yesterday were white on the inside. Apparently this is common as there are different types of sweet potatoes, but the white ones aren't quite as sweet tasting as the orange, so I will have to double check next time. So if you are doing this recipe, I recommend using the sweet potatoes that are orange on the inside. (The white ones took a lot longer to bake as well.)
Just ordered some more Jo Nesbo books, nearly finished the last one I bought, hope they get here soon so I can continue my reading, although I have a few other books in reserve to get through if I find a space! I still haven't cleared out my mp3 yet and I keep adding to it so I've even more tracks to try and skip through before I get to the songs I actually like!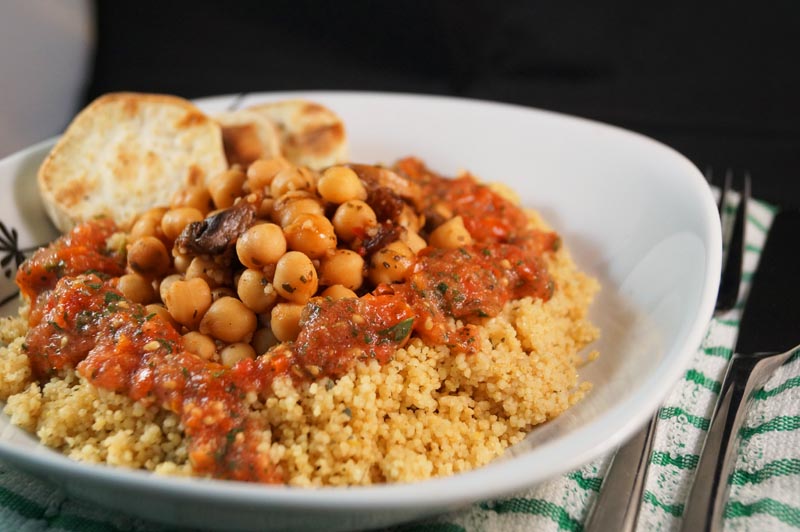 Chili Chickpea Couscous with Roasted Sweet Potato Bites and a Cherry Tomato & Mint Dressing (vegan & gluten free option)
MyInspiration Feel The Difference Range
Serves 2 – ready in under an hour
1 cup couscous (for GF use quinoa)

1 cup vegan stock

1/2 tbsp dried basil (x2)

1 can chickpeas, drained and rinsed

4 large button mushrooms, washed and chopped

2 tbsp raisins

2 tbsp tomato paste

2 tsp chili flakes

2 sweet potatoes peeled and chopped into bites size pieces
For the tomato/mint dressing
10 cherry tomatoes

Small handful of fresh mint

Black pepper to season
Method
Preheat oven to 180 degrees celcius (356 degrees fahrenheit) and pop the chopped sweet potatoes on a baking tray lined with parchment and bake in the oven for 30 – 40 minutes, until nice and soft.

15 minutes before your sweet potato is ready you can prepare everything else – In a mixing bowl combine the couscous, hot vegan stock and 1/2 tbsp basil, stir this all together and add a pinch of black pepper to season, cover the bowl with a plate and leave to stand for 10 minutes. After 10 minutes, you can fluff the couscous using a fork.

For the Chickpeas – Take 2 tbsp of vegan stock and add to a saute pan, throw in the mushrooms and cook for 4 minutes before transferring to a small sauce pan along with the chickpeas, raisins, tomato paste, 1/4 cup of hot water, the other 1/2 tbsp of basil and chili flakes and mix this all together and cook on a medium heat for 5 minutes to warm the chickpeas through.

For the dressing, add the cherry tomatoes, mint and black pepper to a food processor (or use a hand blender) and pulse until smooth.

To assemble, spoon the couscous into your serving bowl, then spoon in the chickpea and mushroom mixture, pop the sweet potato bites on the side and drizzle round the tomato and mint dressing and serve.