Hands up who loves their kitchen…. I do, I do, I do. Oh kitchen how I missed thee. I have been baking, cooking, creating raw desserts, in short, I've went absolutely crazy these last few days just so I can find my feet again. I panicked slightly on Saturday when I tried to make a batch of muffins (recipe will be coming soon) and they went horrificly wrong, I put way too much liquid in and they were just a mess… I can share this with you purely because I made another batch today and they are sublime.
I can't believe I chose to make a risotto today, it's crazy hot here just now and I've no air con in the kitchen so I have to run through the the lounge every 5 minutes to cool down, I think I'll opt for more raw or very quick cooking time dishes for the next few weeks until it starts to cool down again.
Have an exciting project coming up, so once I get started I'll share more with you, but I'm just giddy to get started….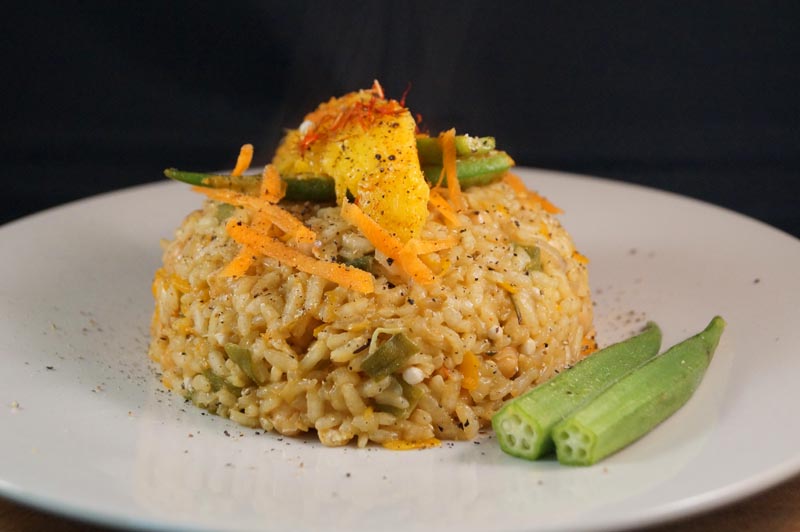 Chickpea & Okra Risotto topped with Sauteed Paprika Mango  (vegan & gluten free)
MyInspiration Feel The Difference Range
Serves 2 – Ready in under an hour
1/2 onion finely chopped
1 clove garlic finely chopped
1 carrot peeled and grated
14 okra (lady fingers) washed and chopped
1 can chickpeas drained and rinsed
1 tsp paprika
Large pinch of saffron
1/2 tbsp dried rosemary
1 tbsp balsamic vinegar
1 cup arborio rice
2.5 cups vegan stock
For the mango
4 slices fresh mango
Pinch Paprika
1/2 tbsp balsamic vinegar
Couple of okra fingers cut on half to garnish
Method
1. Preheat oven to 180 degrees celcius (356 degrees fahrenheit)
2. In a deep sauce pan add 2 tbsp water over a medium heat then add in the onion, garlic and grated carrot and cook for 2 minutes to soften, add the saffron, rosemary and paprika and arborio rice and cook for a further 2 minutes stirring constantly. Now add the stock and the balsamic vinegar along with the chopped okra and give this a good stir. Pop a lid on the pot and put this in the oven to bake for 30 – 35 minutes, stirring every 10 minutes to avoid it sticking.
3. Five minutes before the risotto is ready, heat 2 tbsp water in a saute pan and add the mango and a couple of okra fingers which have been cut in half, give it a shake, then pour over a splash of balsamic and a large pinch of paprika and give it all a good stir.
4. To serve, I put my risotto in a deep bowl and turned it upside down onto my serving plate and popped the slices of mango and the okra fingers on top and finished off with a tiny pinch of saffron for colour.
Approx nutrition per serving – Calories 595 –  Fat 7g – Protein 19g