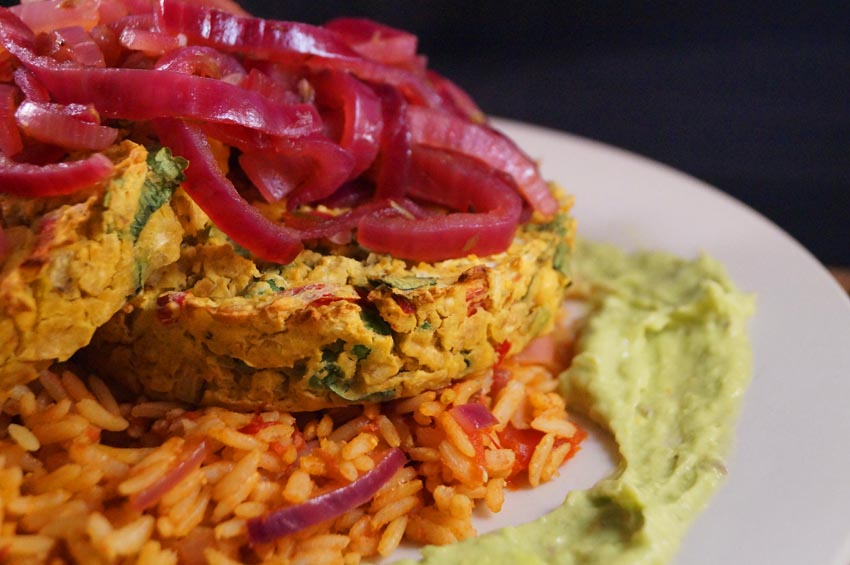 I wonder if you can overeat chickpeas! I have been using them in quite a lot of my dishes lately, but they are just so easy to use it seems silly not to fling them in a dish when I can! I had in my head that these were going to be crispbakes, don't ask me what I thought I meant by crispbakes, I think I've heard it someplace and thought it sounded good, but when I looked at my finished plate they were more burger-ish in style, so patties it is. I'll keep the crispbake idea for something else, I'll get my thinking cap on.
There are a few elements to this dish, but they don't take long and together create a great flavour combination that works fabulously well together, that aioli, well yum, yum, yummy! Mix that in with the sweet red onions and it's like a dream. I'm actually feeling hungry just thinking about it.
Spent quite a bit of time on youtube this morning looking at the Legion Run, I've decided to stop fretting about possible obstacles that will be a challenge and just go for it when the time comes, as long as I give it my best shot I won't be disappointed, it's my first attempt at anything like this, so it'll be a good way to push myself and see what I can do. I'll be trying to increase my strength over the next 3 weeks just a little to give me a better chance of hauling myself over the vertical wall, so fingers crossed!
Chickpea & Coriander Patties served with spicy Spanish Rice, Chilli and Avocado Aioli and Sauteed Sweet Red Onions (vegan & gluten free)
MyInspiration Feel The Difference Range
Serves 2 – ready in under an hour
For the Chickpea & Coriander Patties
3 cups cooked chickpeas
3/4 cup gram flour
1 tsp cumin
2 tsp baking powder
¼ cup vegan stock
Handful of fresh Coriander (cilantro) chopped
1 clove garlic finely chopped
1 onion chopped
½ cup frozen peas
For the Aioli
2 tbsp Tahini
1 Avocado, chopped and mashed
2 Garlic cloves finely chopped
1 tsp Lemon juice
¼ cup chopped Red onion
2 tbsp water
For the Spanish Rice
1 cup rice
2 cups stock
1 red onion finely chipped
2 cloves garlic finely chopped
½ cup chopped tomatoes
½ tsp saffron
1 tbsp red chili flakes
For the Red Onions
2 red onions finely sliced
2 cloves garlic finely chopped
½ tbsp thyme
3 tbsp balsamic vinegar
1 tbsp demerara sugar
Method
Preheat oven to 180 degrees celcius (356 degrees Fahrenheit) and line a baking sheet with parchment.
Prepare the rice – add 2 cups of boiling stock to 1 cup of rice, cover and cook for 20 minutes, drain and mix through the red onion, garlic, saffron, chilli flakes and the chopped tomatoes, then, before serving, cook over a medium heat for 3 minutes to heat the tomatoes through.
While the rice is cooking, you can make the patties – Add 1 tbsp water to a sauté pan and add the garlic and chopped onion and cook for 2 minutes before adding in the stock and frozen peas and cooking in a low heat for a further 2 minutes.
In a large mixing bowl mash the chickpeas and then mix through all the remaining ingredients including the mixture from step 2. Using a serving ring or large round cookie cutter, spoon the mixture onto the lined baking sheet, pressing down to compact them (should make 6 patties easily approx 10mm thick), pop in the oven to bake for 20 – 25 minutes or until firm to the touch.
For the sautéed red onions, add all the ingredients to a small sauce pan and cook on a medium heat for 20 minutes until all the liquid has been absorbed, turn off the heat.
Now finally make the Aioli, add all the ingredients to a food processor (or just use a stick blender like I did) and pulse until smooth, you can add a little extra water if you would like it thinner.
To serve, spoon the rice onto a plate and top with 2 or 3 burgers, spoon over the sautéed red onions and drizzle with the aioli and a sprinkling of fresh black pepper.