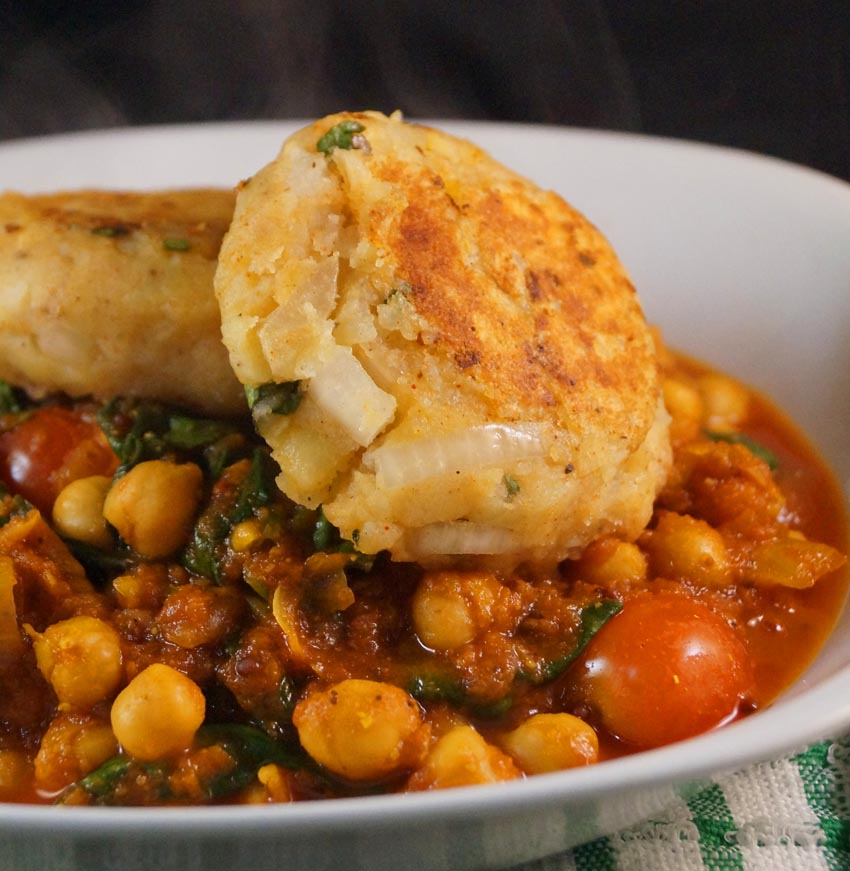 Have I mentioned that I love spicy food, I think I must have, or you've been able to tell from the amount of spicy dishes I like to make. There's just something exquisite about using lots of different spices along with the fresh ginger, chillies and coriander. I love the smell of fresh coriander and using chickpeas with the spice blend always, always, always works a treat, as it just takes on the wonderful flavours and makes it one of the easiest and tastiest dishes I've ever made.
I've mentioned below about the 2 ways I cooked the Aloo Tikki (spiced potato patties) I baked the majority of the mixture but I thought I'd have a go at pan frying. I'm not a fan of fried foods – I think it stems back to my teenage years of working in a chip shop! So I tend to avoid frying food as much as possible (actually I don't fry anything), but that's a personal choice, so it's completely up to you how you want to cook your Aloo Tikki, just know that I gave Martin the 2 fried Aloo Tikki along with one baked and he has just told me he preferred the baked.
Finished off the tropical cheesecake last night that I made on Sunday (and I've just realised I haven't put the recipe up yet, I shall add next!) I've still got just under a half pack of silken tofu left from that recipe so I think I might make a chocolate pudding for dessert tonight to use it up, maybe with some cheeky mini cookies on the side, oh yes, sounds good to me!
Chana Masala topped with Aloo Tikki (vegan & gluten free)
MyInspiration Feel The Difference Range
Serves 2 – Ready in 40 minutes
Aloo Tikki (makes 6)
2 medium white potatoes, peeled and chopped
½ onion finely chopped
1/2 inch cube ginger very finely chopped
Handful of fresh Coriander (cilantro) chopped
½ tsp Cumin
½ tsp chili powder
½ tsp garam masala
Chana Masala
2 cans chickpeas (garbanzo beans) approx 4 cups, drained and rinsed
1 onion finely sliced
3 cloves garlic finely chopped
1" cube ginger finely chopped
2 green chilis finely chopped
8 cherry tomatoes halved
2 tsp madras powder
1 tsp coriander seeds
1 tsp turmeric
1 tsp garam masala
2 tsp mustard seeds
1 tsp cumin
2 cups passatta (pureed tomatoes)
2 tbsp tomato paste
2 packed cups of fresh Spinach
Method
1. Make the Aloo Tikki – Preheat oven to 180 degrees celcius and line a baking tray. Add the chopped potatoes to a pan of boiling water and cook for 8 – 10 minutes until a knife goes through quite easily (but not mushy), drain and mash. Now mix through all the remaining ingredients and give this a good stir until everything is well combined, then spoon 3 tbsp of the mixture into a 3.5" cookie cutter/presentation ring and compact it down, repeat with the remaining mixture and pop in the oven for 25 minutes carefully turning half way through (or you can leave them on one side to cook and have them a little soft on the bottom).
NOTE: I made 4 in the oven and reserved some of the mixture to pan fry 2 Aloo Tikki for presentation and to see what the difference in taste would be – I used ½ tbsp vegan margarine in a saute pan over a medium heat and shaped the mixture into 2 patties and sautéed for 2 – 3 minutes on each side to crisp it up a little.
2. For the Chana Masala – Add half of the chopped onion, all of the garlic, green chili and ginger to a food processor (or use a stick blender) and pulse until the mixture has broken down. Add 2 tbsp water to a deep sauce pan over a medium heat and add the onion mixture and cook for 2 minutes before adding in the remaining half chopped onion, madras powder, coriander seeds, turmeric, garam masala, mustard seeds and cumin and stir all together.
3. Add in the chickpeas and mix this through with the onion and spices until well coated then add the passatta, tomato paste, cherry tomatoes and a quarter cup of water and mix together, turn the heat down to low, cover and simmer for 10 minutes, then add in the spinach, give it all a good stir, cover again and cook for another 10 minutes, stirring occasionally.
4. To serve, just spoon the Chana Masala in a big bowl and top with a couple of Aloo Tikki (I've got 2 left over to go with lunch today.. Bonus!)