This summer why not take a chance and make some room in your wardrobe for some tantalising colour.
Whether it's Cameron Diaz Orange, Eva Longoria Baby Pink or Rosie Huntington-Whitely Yellow, there is a whole spectrum of shades out there that you can be experimenting with this year.  So be brave, get out there and try on some new colours and see what a difference a few staple pieces can make to your wardrobe.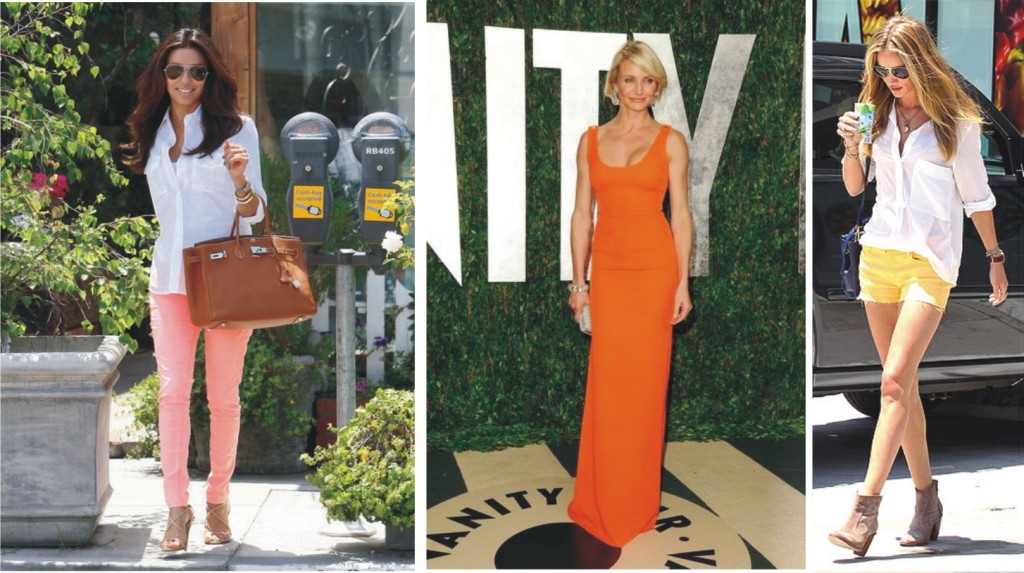 Think cool summer dresses in a beautiful coral colour or a turquoise blue or you can just start off small by teaming your favourite denim cut offs with a bright t-shirt, some wedges and gorgeous gold bracelets to finish the look. Perfect for lunch with the girls. Maybe even try Rosie H-W look with some coloured shorts but keeping it simple with a white shirt or t-shirt.
Keep in mind that accessories can really make an outfit so look for statement pieces, this includes jewellery, shoes, watches and handbags, look out for unique pieces that not everyone will have!
What' you really need to consider is the color you wear nearest to your face. If you love shocking pink, but it just doesn't match your coloration, you could still opt to wear a pink skirt or choose a pink handbags and shoes. Realise that no single color is entirely "off-limits" you might think you look horrible in a mustard, but radiant in a pastel yellow, so feel free to experiment!