I've never actually been the Caribbean, so haven't had the delight of trying authentic cuisine from that part of the world, but I would like to go some day. Maybe I can put it on my dream world trip list, it looks like a stunning location and those beaches!!! I sense this is getting to be quite a long list I'm creating.
I haven't made conventional rice and peas purely because I used many of the spices (and the coconut milk) in the stew, so wanted something very light to go with it, which is why the rice and peas are simplified somewhat, but you can make it however you prefer. The dish itself is packed full of vegetables and the portobello mushrooms gave it a hearty texture that is needed for these winter nights. My pan got filled so quickly, I didn't have room to add in the green beans or the red and green peppers I had, so if you are catering for more than 2, you can pop these in as well.
I have finally, finally got my watch sorted yesterday, my Christmas present has been sat in it's box waiting patiently for me to take it into town and get a couple of links removed. When I initially tried it on it fell off my hand and I almost broke it… not the best start! But now it's done, fits perfectly and I'm looking forward to wearing it.
Off now to think of some weekend treats I can bake, someone posted a comment on this blog mentioning Clif Bars, I have never heard of them over here, so I had to look them up and it's given me some ideas, inspiration you might say… to make something like the black cherry and almond or the banana bread bar, I'll have to have a good think about it and see what I decide on.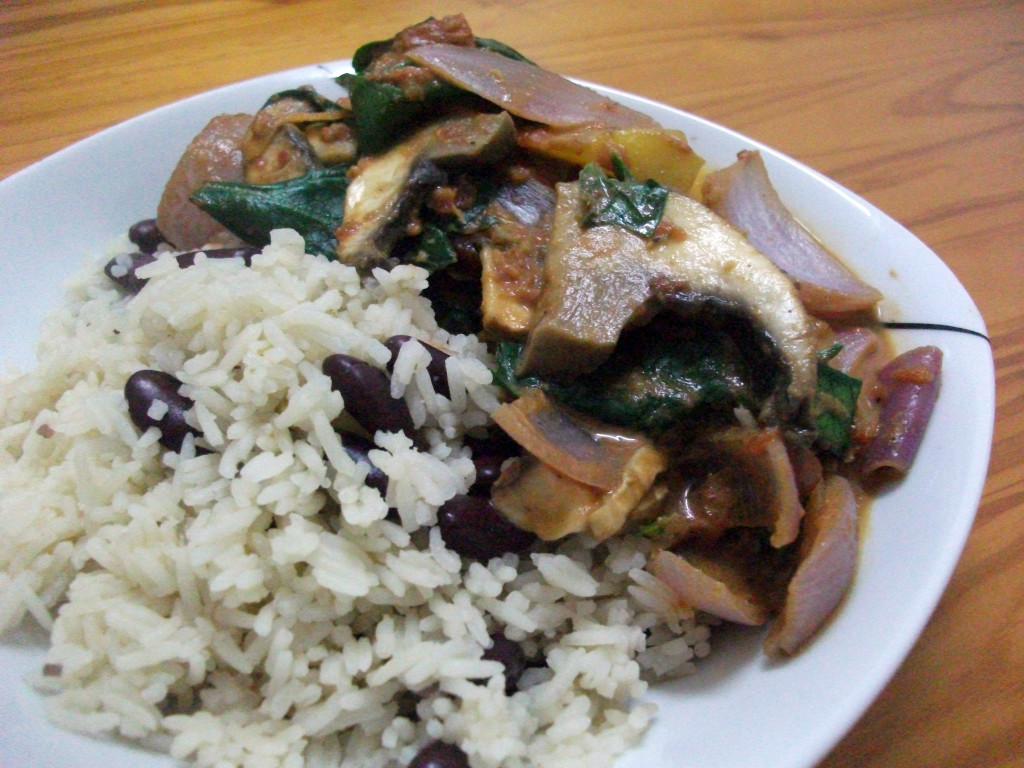 Caribbean Vegetable Stew served with Rice & Peas (Vegan & Gluten Free)
MyInspiration Feel The Difference Range
Serves 2 (ready in 35 minutes)
Vegetable Stew
2 large Portobello mushrooms chopped
2 red onions chopped into wedges
1 large yellow pepper chopped
1 large carrot peeled into ribbons
1 cup of canned light coconut milk
1 tin of chopped tomatoes
2 cups of spinach
½ cup Spicy Jerk Paste (See recipe below)
Method
1. In a large frying pan or wok, heat 2 tbsp water and add the red onions and cook for 3 minutes before adding in the carrots, pepper and jerk paste, stir to coat everything.
2. Add the coconut milk and chopped tomatoes and mix through, then add in the mushrooms and cook for 15 minutes.
3. Finally throw in the spinach and fold the mixture over to wilt, then serve with your rice and peas!!
Spicy Jerk Paste
2 garlic cloves, peeled and chopped
2 spring onions chopped
2 chilis, chopped
1" cube of fresh ginger chopped
2 tbsp Soy sauce
1 tablespoon water
1 tsp natural brown sugar
2 tsp dried thyme
Pinch ground allspice
Pinch nutmeg
Method
1. Put everything in a food processor and pulse until smooth
Rice & Peas
1 cup basmati rice
2 cups vegetable stock
1 cup cooked kidney beans
Method
1. In a pan add the 2 cups of vegetable stock to a cup of rice, turn down to the lowest heat and allow to cook for 15 – 20 minutes, give it a stir to stop it from sticking to the bottom.  Once the rice is cooked, stir through the kidney beans.