Ok, I'll be the first to admit, I have gone totally overboard on all the sweet stuff this December. In my excitement in trying to make as many vegan sweet treats that I could possibly think of,  I lost track of keeping our diet "clean"… but I had to give them a go didn't I??
So the fridge is now empty of the decadent treats, having just finished off the Brandy and Raisin Fudge Cups (one last ridiculously sweet recipe to come) and I'll be looking at making some clean, fabulously healthy whilst still seriously delicious goodies that we can snack on.
So tonight I kicked off our "getting back to clean eating" with a very simple and oh so tasty pasta dish. This is a very filling dish and the sauce tastes spectacular and is a keeper for some other recipes I'll be trying in future.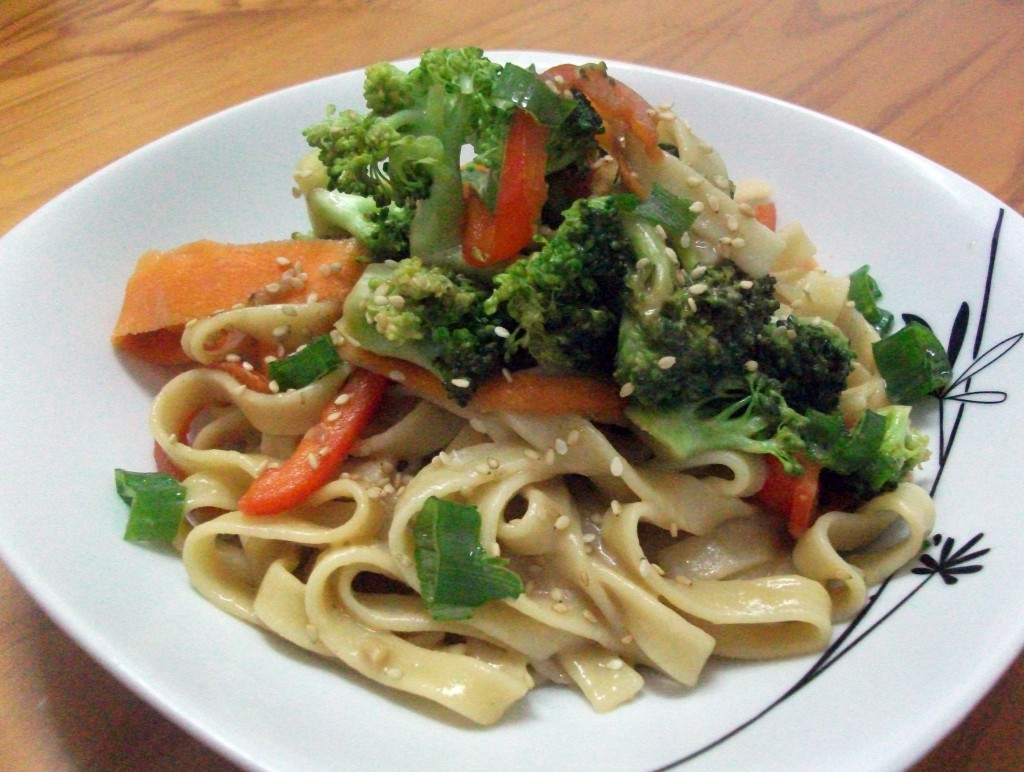 Broccoli & Red Pepper Tagliatelle served with a Spicy Satay Sauce
MyInspiration Feel The Difference Range
Serves 2 (big bowls of pasta!)
200g Durum Tagliatelle
4 cups broccoli florets
2 carrots peeled into strips
1 red pepper chopped into matchsticks
3 cloves garlic
2 tsp fresh ginger chopped finely/grated
3 tbsp low sodium soy sauce
For the Satay Sauce
½ cup smooth peanut butter
2 tbsp apple cider vinegar
1 tsp chili powder
½ tbsp natural brown sugar
2 ½ tbsp soy sauce
To Garnish
Spring onions chopped
Sesame seeds
Method
1. Prepare your pasta according to the packet, I popped mine in pan of boiling water for 12 minutes. Drain and set aside.
2. In a wok or large frying pan, heat on high and add ¼ cup of water, then pop in the broccoli florets and let cook for a minute, then add in the ginger and garlic and stir through.
3. Add the remaining ingredients and stir fry it for about 5 minutes until the broccoli is a lovely vibrant green.
4. To prepare the sauce, take a small sauce pan, add the peanut butter with 2 tbsp hot water and stir to thin out the mixture, then add the remaining ingredients, tasting as you go to make sure you get the taste you like, you can add a little more chili if you like, but I found 1 teaspoon was enough.
5. In a big bowl combine the tagliatelle, broccoli mixture and satay sauce and toss together, serve in a bowl topped with the spring onions and a sprinkling of sesame seeds.