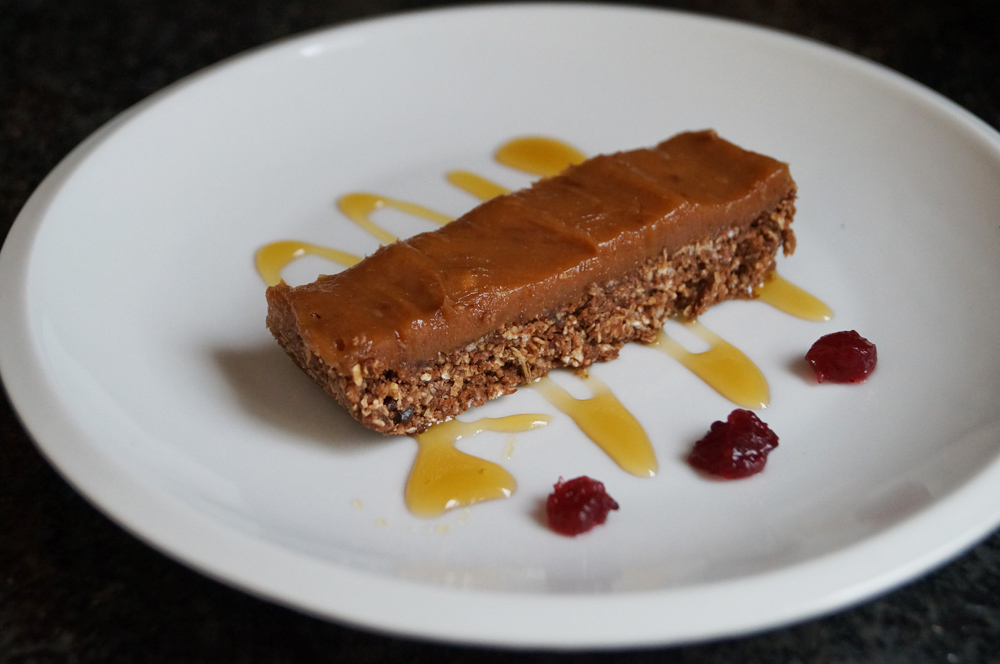 I am just going mad now with bananas, now I know I can eat them I'm trying to come up with tasty treats to make up for the decades of having no banana in my diet and as it's pretty much the weekend, I thought I'd do a nice little dessert for this evening, and so the Blissful Banoffee slice was constructed! I told you I was going to do a raw vegan recipe and this fits the bill perfectly, it's so easy to make and is a sheer delight to eat. Before we went vegan I had no idea that peanut butter was so versatile, but now it's a staple for my baking. I'm babbling I know… I think I'm in dessert euphoria.
The wind is howling outside just now and I'm so glad to be inside, I can hear the neighbours all rushing around trying to get in their washing, plant pots and patio furniture before it goes through someone's window, it's that windy! I think I'll just sit this one out and enjoy my Banoffee slice with a cup of coffee and perhaps a crossword or two…
Raw Vegan Blissful Banoffee Slice (Gluten Free)
MyInspiration Feel The Difference Range
Serves 6 – takes 10 minutes to construct and a couple of hours in the freezer to set
For the crust
1 cup GF Oats
6 medjool dates
1/3 cup shredded coconut
6 hazlenuts
3 tbsp maple syrup
1 tsp vanilla extract
1 tbsp cocoa powder
1 tbsp non dairy milk (I used almond milk)
For the filling
1 large ripe banana
3 tbsp peanut butter
1 tsp vanilla extract
2 tbsp maple syrup
Method
1. For the crust, combine all the ingredients in a food processor (or use a stick blender) and pulse until it starts to clump together, tou can add a little more milk if it's too dry, you want it to hold it shape when squished together. Spoon the mixture into a freezer proof dish that's lined with parchment paper as this makes it easier to lift out, mine was 7″ x 5″, press the mixture down so it's firmly packed into the bottom of the dish.
2. For the filling, add everything to a (cleaned) food processor or again just use a stick blender, and pulse until smooth then layer this on top of your crust, smoothing it out so it's evenly spread.
3. Pop in the freezer for a couple of hours, just to let the filling stiffen slightly, then slice and serve with a drizzle of maple syrup.
Each slice is approximately 220 calories (based on 6 servings)