It's been absolutely ages since I baked with carrots and I had one just sitting there all lonesome and forlorn, so I grabbed it up and set about some muffin baking, so glad I did as these were just fabulous, even if I do say so myself. You could, if you wanted, add a little frosting to the muffins to make a proper carrot cake, but that's up to you!
Might bake again tomorrow, I've got a hankering for a cheesecake and I just bought some more tofu, so it's just a matter of deciding which flavour to do. Going to try something completely different I think and see how I get on, get out my kitchen comfort zone.
I also need another quick dinner option for tomorrow night as there is footie on, something spicy and delicious that I can stuff with jalapenos…. oh yes, that sounds about right. Hope we win…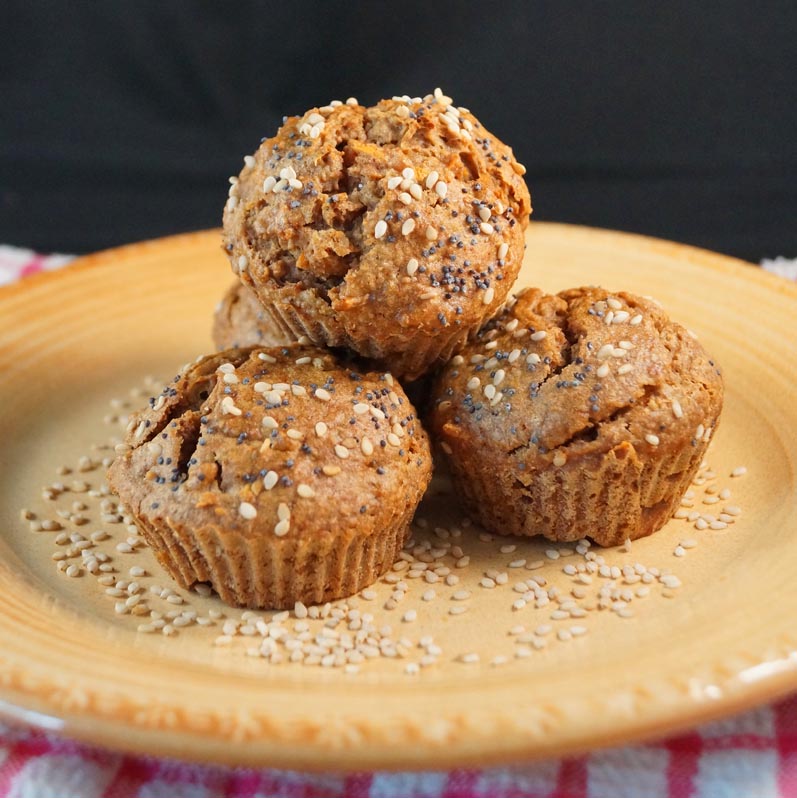 Vanilla Carrot Cake Muffins (vegan and gluten free option)
MyInspiration Feel The Difference Range
Makes 6 Cupcakes – ready in 40 minutes
1 cup rye flour (for GF use Buckwheat or your favourite flour)

2 tbsp corn flour

1 tsp baking powder

¼ tsp baking soda

½ tsp cinnamon

1 small carrot shredded

2/3 cup canned coconut milk

3 tbsp maple syrup

1 tsp vanilla extract

½ tbsp apple cider vinegar

Top with sesame & poppy seeds
Method
Preheat oven to 180 degrees celcius (356 degrees Fahrenheit) and prepare a muffin tray (I use 6 silicone muffin cases)

In a mixing bowl combine the rye flour, corn flour, baking powder, baking soda, cinnamon and shredded carrot and stir together. In a separate bowl whisk together the coconut milk, maple syrup, vanilla and apple cider vinegar, then add the liquid to the dry ingredients and fold the mixture together.

Spoon the mixture into the cases almost to the brim and pop in the oven for 25 minutes until a skewer comes out clean. Remove from cases and cool.