We were watching a film last night where there was a family digging into a huge pile of pancakes doused in maple syrup and it must have triggered some kind of craving as we decided that we just had to have some, it's been ages since I made them and it felt like a nice brunch option for a lazy Sunday afternoon.
Martin likes his pancakes with banana and maple where as I tend to go for dried fruits like apricots, dates, raisins etc with a smattering of sesame seeds, maybe a little shredded coconut on top. I think next week I might make a caramelised banana filling to go with the pancakes, I think it would be perfect with maybe a little coconut milk over the top. Oh yummy scrummy!
Today I am stiff as a board, I've been stretching  all day trying to loosen up my legs, it's those killer lunges from yesterday, not sure what tomorrow is going to be like, I feel like the tin man walking up and down the stairs! I think I have been neglecting the weight training side of the gym for too long.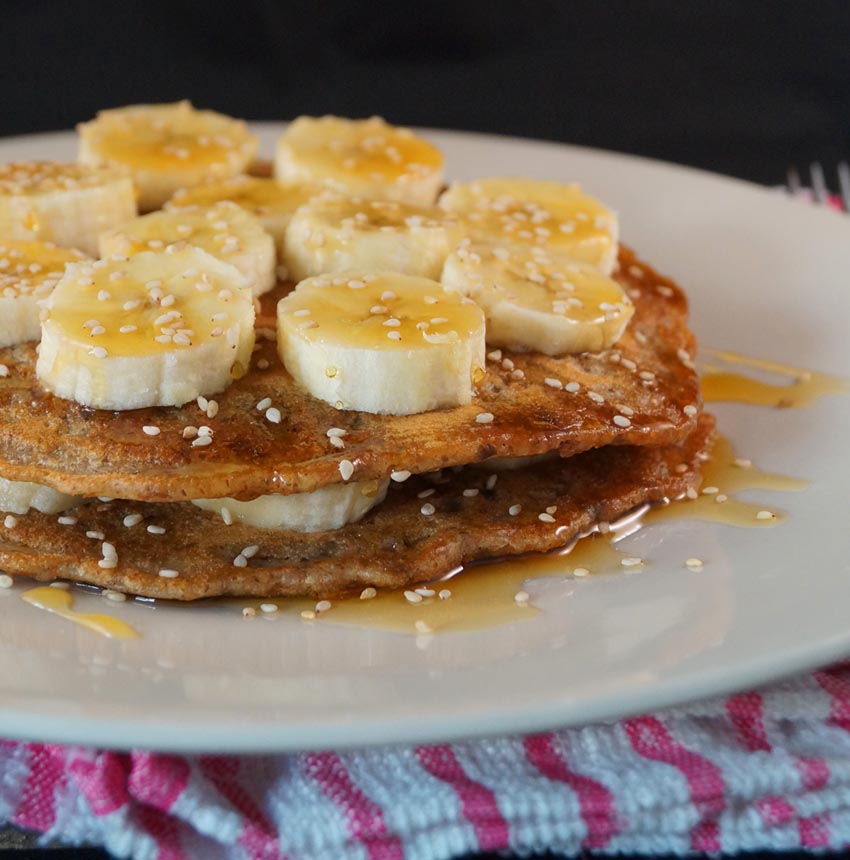 Banana, Maple & Sesame Pancakes (vegan & gluten free option)
MyInspiration Feel The Difference Range
Makes 4 large pancakes – ready in under 30 minutes
1 cup wholewheat flour (for Gluten Free – use a GF brand of flour)

1 tsp Baking Powder

1/4 tsp Baking Soda

Pinch of Cinnamon

1/4 cup oats (make sure GF)

1 cup dairy free milk (I used Alpro Almond Milk)

3/4 cup water

2 tbsp ground flax seed (linseed) mixed with 2 tbsp non dairy milk

1 tsp Vanilla Extract

2 tsp Olive/Coconut Oil (for saute pan)

Topping of your choice – I used 2 bananas, 1/2 tbsp sesame seeds and 2 tbsp maple syrup for each pancake)
Method
Mix together the flax with the milk and leave for a few minutes to gel.

Pop your saute/frying pan on a low heat, leave for 4-5 minutes so the whole pan is hot this helps with the cooking process and makes it easier not to burn the pancakes.

In a mixing bowl, combine the flour, oats, baking powder, baking soda and cinnamon and in a separate bowl mix together the milk, water and vanilla and then slowly whisk the liquid through the dry ingredients, add in the flax seed and again whisk until you get a lovely smooth batter, I usually decide here if I need to add a splash more milk or water, I like my batter to be like a thick pouring cream consistency.

Pour 1/2 tsp of oil into your now hot pan and take a ladle full of pancake batter (about 1/2 a cup) pour this into the centre of your saute pan and it should naturally spread out into a nice circular shape, leave this to cook for a few minutes, you'll see the pancake starting to bubble on the top and see a change in colour and texture, slide a spatula underneath and flip the pancake over and cook for another minute. Once it's ready just transfer onto a plate and continue with the remaining batter.

To serve, slice up your banana, and layer on to the pancake, lay a second pancake on top, add another layer of chopped banana, drizzle the maple syrup over the top and sprinkle over the sesame seeds, serve right away and enjoy!