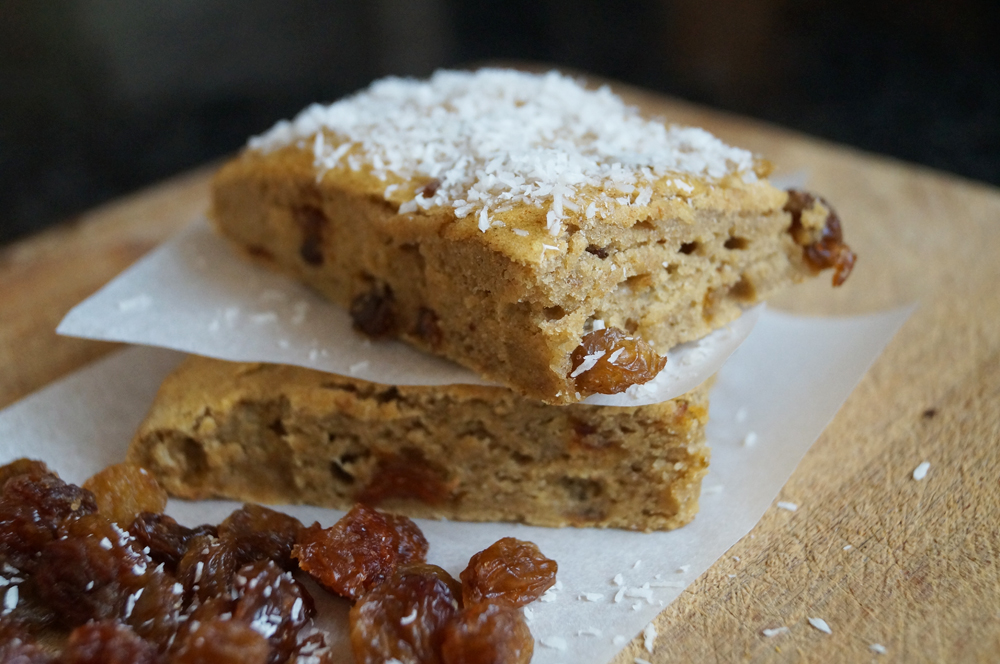 I had a notion to just go in the kitchen and bake something for a spot of Saturday Afternoon Tea and as I'm still in my banana loving phase I flung a couple in this recipe for good measure!
This is another super easy recipe that takes 5 minutes to prepare and then half an hour later you are tucking into some seriously good cake squares! The best thing is, if like me, you have a significant other who doesn't like coconut, then just sprinkle each square independently, so I had coconut, Martin had sesame seeds, you could leave it with just the glaze, sprinkle a little cinnamon or crush some walnuts… you see where I'm going with this, you can top it with pretty much anything you like.
Going to have lunch in a bit and then head off for the afternoon, the camera battery is charging as I type and the sun is shining, so looks like a good day for some photography shenanigans!
Banana Cake Square topped with a Marmalade Glaze and Showered in Coconut (Vegan & Gluten Free)
MyInspiration Feel The Difference Range
Makes 6 Square (Although they are a good size, so you could get 9 smaller square easily)
1 cup Buckwheat Flour
1/2 tsp Baking Powder
1 tsp vanilla extract
1 banana mashed
8 dates (mixed with 2tbsp non dairy milk, microwaved for 30 seconds)
3/4 cup non dairy milk (I used almond milk)
2 tbsp maple syrup
1/2 tsp cinnamon
1/2 tsp nutmeg
1/4 cup of raisins
Marmalade Glaze
1 tbsp your favourite marmalade (I used an orange and lime marmalade)
1 tbsp Maple syrup
Method
1. Preheat oven to 180 degrees and line a 7′ square cake tin with parchment paper
2. In a food processor (or using a stick blender) pulse together the warm dates, maple syrup, banana, vanilla & milk until it's lovely and smooth
3. In a mixing bowl combine the flour, baking powder, cinnamon, nutmeg and raisins, then add the wet ingredients to the dry and fold it all together before spooning into your lined cake tin and popping in the oven for 20 – 25 minutes (until a skewer comes out clean) remove from heat, allow to cool slightly and cut into squares before adding the glaze.
4. For the glaze – Mix the two ingredients together and brush over your squares and sprinkle over your topping (as in the picture I used shredded coconut)