Martin saw a photo of this tarte tatin the other day on pinterest and made a request for something similar for dinner, so I happily agreed. I've based the recipe on the original from the Gourmet Vegan site which has loads of fabulous recipes to tantalize those taste buds and this tarte tatin (I keep saying it in a sing song voice, like ta dah!.. weird I know!) is really delicious. One of my favourite things for dishes is red onion and balsamic vinegar mix, it's just packed with flavour and can be used as a side, for burgers, for pies, for tarte tatin… did you read that in a sing songy voice now??
The original recipe uses roasted vegetables, but I was short on time, so sauteed them instead, but I think it's worth it if you plan in advance, although you can saute them like me and it still tastes great.
For those who are Gluten free then I would make a pastry crust (just seen this that looks good Vegan GF Pastry) I will make a GF pastry some time in the next few weeks so see what I can come up with, but for now I think this one will suffice, you might just need to bake it longer. Also, swap the bulgur for quinoa.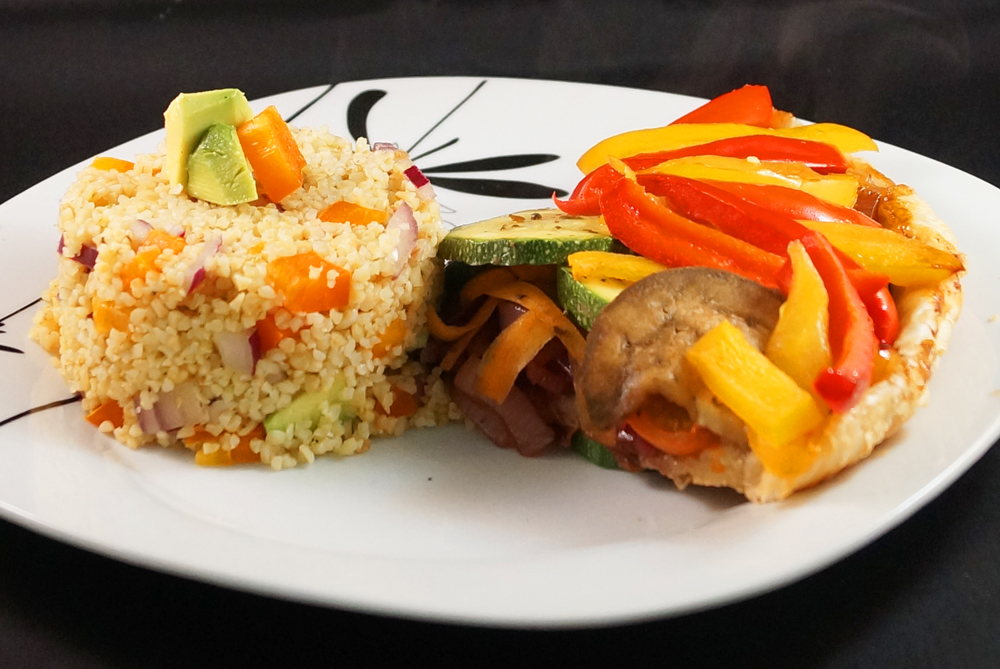 Balsamic Red Onion & Vegetable Medley Tarte Tatin with Avocado and Cherry Tomato Bulgur (Vegan with Gluten free option)
Serves 4 – Ready in about an hour
For the tarte tatin
200g vegan puff pastry (I used Jus-Rol as I was short on time)
1 courgettes (zucchini) chopped into rounds
1 aubergine (eggplant) chopped into rounds
1 carrot peeled into long strips
6 cherry tomatoes, halved
1 large red pepper, sliced into strip
1 large yellow pepper, sliced into strips
1 tsp dried basil
Black pepper
For the red onion mix
2 red onions sliced
3 tbsp balsamic vinegar
1 clove garlic
Pinch of dried basil
For the bulgur
1 cup bulgur wheat
2 cups vegan stock
1 avocado, peeled and chopped
1 orange pepper, finely diced
8 – 10 cherry tomatoes, quartered
1 red onion finely sliced
Method
1. Pre-heat oven to 180 degrees celcius and lightly oil a large round baking tray (mine was 13″ wide)
2. To make the tarte tatin, add 2 tbsp water to a large saute pan and throw in the sliced peppers and cook for 5 minutes, sprinkle with a little dried basil and black pepper and then drain into a colander. In the same pan, add another 1 tbsp water and then cook the aubergine and courgette for 6 – 8 minutes again, sprinkle with a little basil and black pepper.
3. While the aubergine and courgettes are cooking you can start to layer your pepper slices on the base of the baking tray, I layered them red then yellow with the ends all meeting in the center of the dish, remember to leave a 1″ gap around the outside of the mixture as we need to tuck the pastry over it later.
4. Once the aubergine/courgettes are cooked, take the aubergine and layer them around the outer edge of the peppers, making them overlap slightly, then layer the courgette slices on top of this including the center of the dish, along with the peeled carrot strips and cherry tomatoes.
5. Now make the red onion mix to top this off, add 1 tbsp water to your saute pan over a medium heat, add the red onions and garlic and cook for 2 minutes before adding the balsamic vinegar, basil and a further 2 tbsp water, let this cook for 10 minutes until the liquid has reduced. Once it's ready spread it over the top of your vegetable pile.
6. Roll out your pastry so that it is big enough to drop over the top of the veg and onion mix and tuck it into the sides making sure everything is nice and covered, pop in the oven for 25 – 30 minutes (until the pastry is golden), remove from the oven, flip onto a plate and slice.
7. While the tarte is in the oven, make the buglur. Add the bulgur and vegan stock to a sauce pan and bring to the boil, cook for 5 minutes stirring occassionally, then remove from the heat, cover and let it sit for 20 minutes. Just before serving, stir through your chopped avocado, cherry tomatoes, red onion and orange peppers.
Phew…. your done – For the Gourmet Vegan recipe click here.