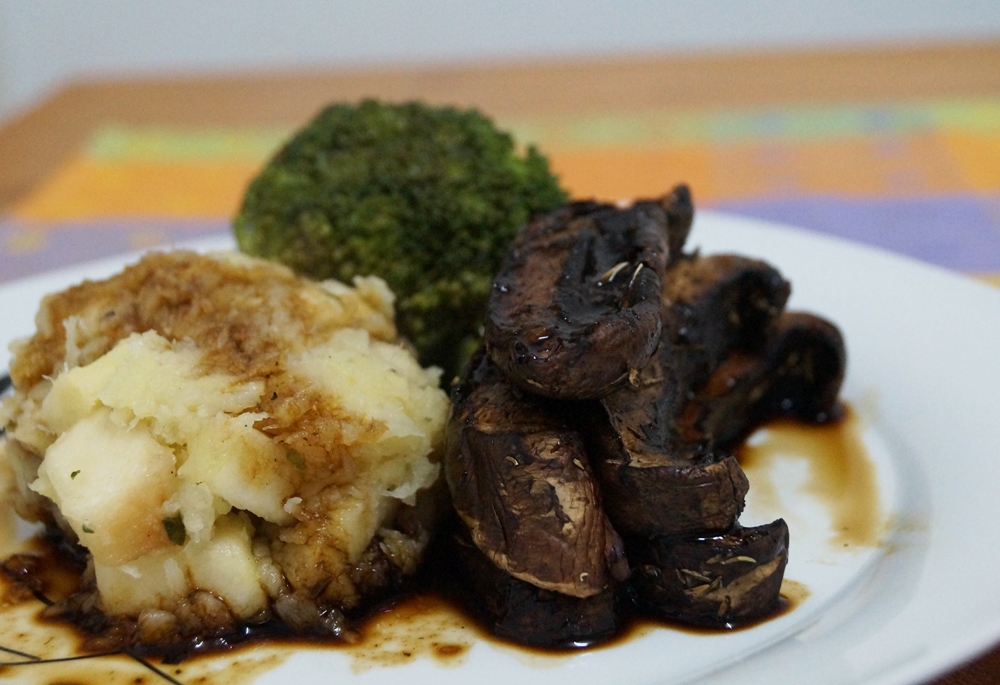 I think I'm becoming addicted to perusing through posh restaurant menus to get my dinner inspiration, things I like the sound of and can adapt or seeing something as a side to their meat or fish that would go perfectly with say… some delicious Portobello Mushrooms. I would never in a million years have thought about putting pear and parsnip together, but trust me, this is beautiful, it tastes wonderful.
Their are some humongous parsnips in the fruit market just now, so this was a no brainer for me and I love portobello mushrooms, either marinated or served with a home made sauce/gravy, so versatile, it's great.
I also made a tasty little cake yesterday… I'll post that a bit later with the recipe… let's just say Marzipan fans will love it!
Balsamic Marinated Portobello Mushrooms served with a Parsnip & Pear Mash (Vegan & Gluten Free)
MyInspiration Feel The Difference Range
Serves 2
For the mushrooms
4 – 6 Large Portobello Mushrooms
1/2 cup balsamic vinegar
1/2 tbsp dried thyme
Black pepper to season
For the Parsnip & Pear Mash
3 parsnips, peeled and chopped into thick chunks
1 ripe pear, peeled and chopped into little chunks
1/2 tbsp dried parsley
Black pepper to season
Method
1. I removed the stems and scraped out the insides of the mushrooms, washed them and then sliced them into thick strips before popping them in a large deep baking tray and pouring over the balsamic vinegar and sprinkling on the thyme and pepper, giving it a good stir to make sure everything is coated, I then covered and allowed to marinate for an hour.
2. Turn the grill on medium and pop your mushrooms in on the low shelf for about 20 minutes turning them half way through.
3. Now make the mash. add the chopped parsnips to a pan of boiling water and cook for 10 – 12 minutes until softened, drain and mash before adding in the parsley, pepper and pear and stirring together.
4. Once I'd popped the mushrooms on the plate with the mash and broccoli, I added 1/4 cup of hot water to my baking tray with all the lovely juices and gave it a stir and it became my sauce for the dish.
5. I served mine with some broccoli, you could have green beans, peas, asparagus, carrots etc whatever you like.