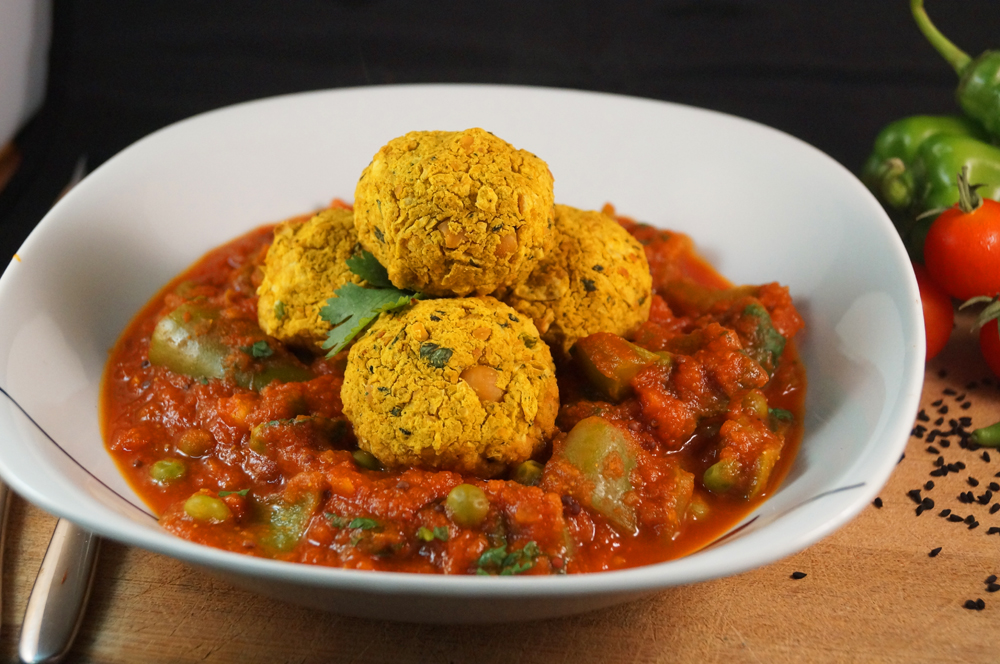 This is my first go at making kofta, I have never had them before so, honestly, I've no idea what they are supposed to taste like, all I know is these are little bundles of deliciousness and teamed with the spicy Jalfezi they are divine. They are almost like falafel but without the softness of the potato through them, I'll most definitely be making these again and just mixing up the different curries as it's a good alternative to rice or breads, really filling.
I'm still waiting on my Yoga Bible to arrive, I bet it gets here the day after we leave for summer… on the plus side, The Great Gatsby book I ordered is here and I think it will be my plane reading material. For some reason I thought it would be a much bigger book. So I'll read it while I'm travelling and then watch the movie in August.
I was going to make another cheesecake over the weekend, but when I went to visit the store where I found the tofu, the whole section was replaced with pet food… hmmmmmm, so unless I make another "special" trip out to the big supermarket, it's just going to have to be cake… or, thinking about it, I haven't made a dessert pie in a while and I did see some beautiful nectarines in the fruit market…. we shall see!
Baked Chickpea & Chili Koftas in a Hot Jalfrezi Curry Sauce (vegan & gluten free)
MyInspiration Feel The Difference Range
Serves 2 (with a few koftas left over for lunch) – Ready in approx 40 minutes
For the Kofta
2 cans chickpeas drained and rinsed
1/2 onion finely sliced
1 hot green chili finely sliced
1 clove garlic finely sliced
2 tbsp Gram (chickpea) flour
Small handful of fresh coriander (cilantro)
KOFTA SPICE MIX:
1.5 tsp black cumin seeds
2 tsp Garam Masala
2 tsp Tamarind
1 tsp Turmeric
1/2 tsp chili powder
For the Jalfrezi
1 onion finely chopped
3 cloves garlic finely chopped
2″ cube of fresh ginger finely chopped
2 hot green chillis finely chopped
3 green peppers (capsicum) roughly chopped into big chunks
3 cups passata (pureed tomato)
1 cup frozen peas (take them out the freezer before you start cooking)
Handful of fresh coriander (cilantro) chopped
1 tbsp lemon juice
JALFREZI SPICE MIX
2 tsp cumin powder
1 tsp Turmeric
1 tsp garam masala
1 tbsp mustard seeds
Method
Preheat oven to 180 degrees celcius (356 Fahrenheit) and line a large baking tray with parchment paper.
Make the Kofta – Heat 2 tbsp water in a saute pan over a medium heat and add the onion, garlic and chili and cook for 4 minutes, transfer to a food processor (or use a stick blender) add the coriander and the Kofta Spice Mix and pulse until smooth.
In a large mixing bowl, mash the chickpeas until they are all crushed then add the mixture from step 2 along with the gram flour and mix thoroughly together, if it's too wet, add a little more gram flour. Using damp hands take a heaped tablespoon of the kofta mixture and shape into a ball and place on the parchment paper, you should get 18 – 20 koftas. Cook in the oven for 20 – 25 minutes, they should firm up quite nicely in the oven.
Now make the Jalfrezi – Add the onion, ginger, garlic and chili to a food processor and pulse until smooth.
Heat 2 tbsp of water in a deep sauce pan, add the onion mixture from step 4 along with all the Jalfrezi Spice Mix and cook for 3 minutes to release the flavours before adding in the green peppers, passata, peas and lemon juice, bring to the boil then reduce the heat to medium, cover the pan and cook for 20 minutes and just before serving stir through the coriander. Serve in a bowl with the koftas placed on top!