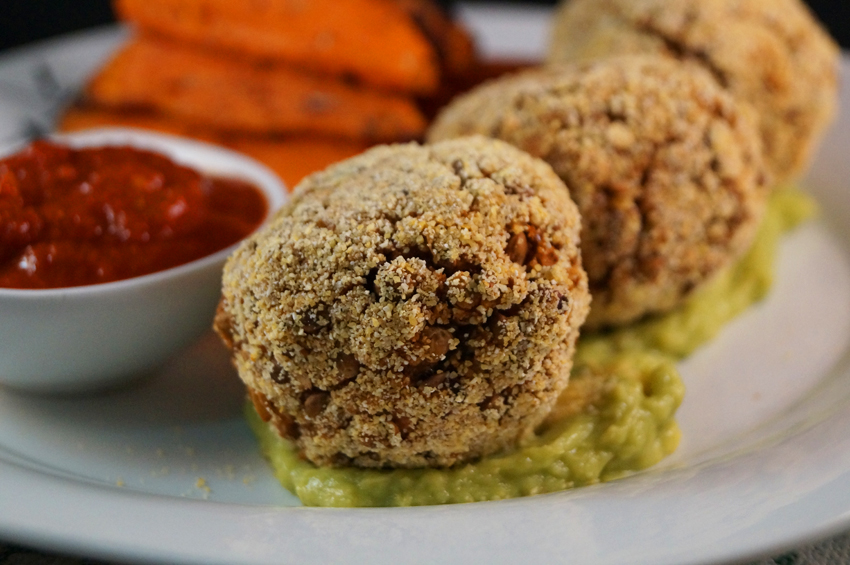 For the last 6 weeks I have had access to an awesome kitchen and do you know how many times I've actually "properly cooked" in it? Go on guess! The answer, to my eternal shame, is none! I had such great visions of all the things I was going to make, oh the cakes I would bake, the fine dining ideas I would play around with, but, alas, I have been drawn away from the kitchen and into the comfy seats of the cafes, bars and eateries of Edinburgh, a city that is booming with vegan food! It's quite awesome.
My lack of kitchen time is purely because finding good food that we enjoy has, in the past, been incredibly limited and now we find ourselves with access to all these fabulous places within walking distance and all offering amazing food that I have not sampled before, well, I'm just going to put this down to research and development.
I will be the first to admit that I've been lazy of late when it comes to creating new dishes, but I really feel reinvigorated to start trying out new things. For instance I've never worked with jackfruit, which is delicious by the way and I recently had my first taste of kombucha, oh my word, where has this sweet nectar been all my life!
Now, back to the cooking part. I had noticed that when I changed MyInspiration back to a blog (felt like the right thing to do for me!) some of my more recent recipes have vanished, eek, shock horror, so I thought that I would repost some of my more popular recipes, so my apologies if you have already seen and tried some of them, but even I'm thinking that I'll cook these again this month!
Avocado Stuffed Lentil Balls with Sweet Potato Wedges & Homemade Hot Sauce
This recipe will make 6 Lentil Balls (serves 2) – ready in roughly an hour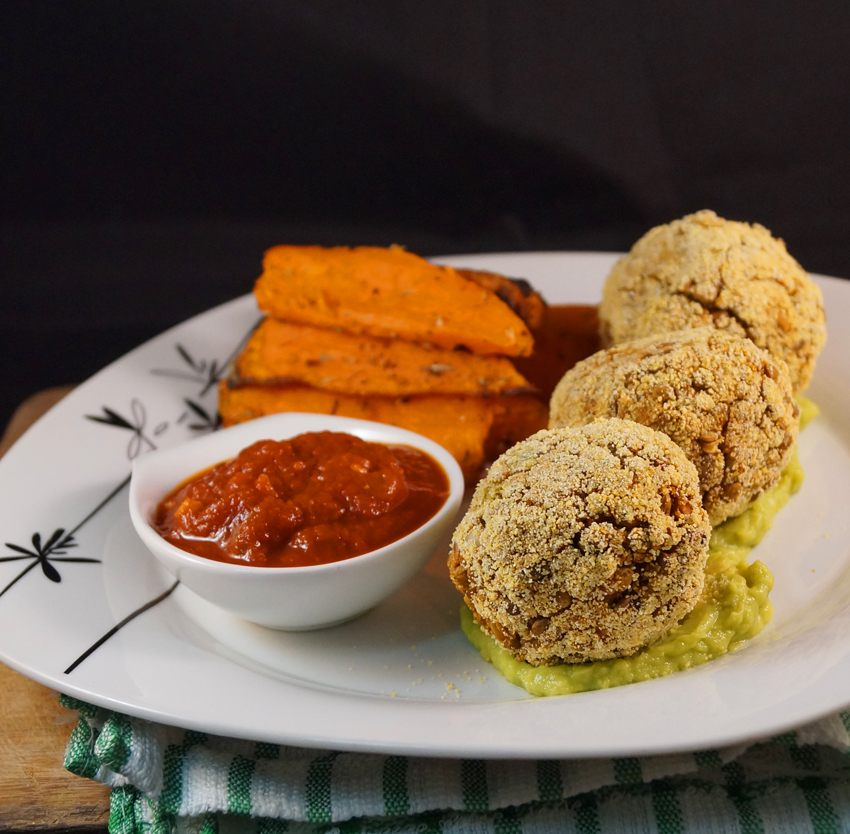 Lentil Balls
1 can lentils (approximately 2 cups)
4 sun dried tomatoes chopped (I have a jar of sun dried tomatoes in oil and wash the oil off before chopping)
½ onion finely chopped
2 cloves garlic finely chopped
1 tbsp oregano
½ tsp cumin
½ tbsp chili flakes
2 tbsp tomato paste
1 ½ tbsp ground flax (linseed) mixed with 5 tbsp water (x2 egg replacer)
1 cup home made breadcrumbs (I used rye bread pulsed in a food processor, but for Gluten Free, use your favourite GF bread)
½ cup polenta (plus another ¼ cup extra polenta to roll the lentil balls in before baking)
½ a small avocado cut into 6 cubes
Hot Sauce
½ onion finely chopped
2 garlic cloves finely chopped
2 green chillis finely chopped
½ tsp Cayenne pepper
½ tsp Chili powder
½ tsp Paprika
1 tbsp Red Wine Vinegar
2 tbsp Tomato paste
½ cup Water
½ tbsp soy sauce
Sweet Potato Wedges
2 sweet potatoes
1 tbsp olive oil
Large Pinch of Thyme
Black pepper to season
Method
First off, get the potato wedges ready. Preheat oven to 180 degrees celcius (356 degrees Fahrenheit). Peel and chop your potatoes, add to a pan of boiling water and cook for 5 minutes, drain, drizzle over the olive oil, thyme and black pepper, transfer to a baking tray, pop in the oven for 35 minutes, giving them a shake occasionally and turning them half way through.
Now for the lentil balls – Heat 2 tbsp water in a deep sauté pan over a medium heat and cook the onion, garlic and sun dried tomatoes, now mix in the tomato paste, oregano, cumin and chili flakes, mix everything together then turn off the heat. Transfer this to a food processor (or just use a stick blender) pulse until a nice smooth paste forms.
In a large mixing bowl, combine the lentils and the paste from step 2 and stir together so the lentils are well coated, now add in the breadcrumbs, polenta and flax mixture and really mix thoroughly.
Now get in there with your hands (make sure they're clean!) grab a palm full of the mixture and squeeze to compact it together, using your thumb make a small indentation in the ball, then take a chunk of avocado and pop it in the middle and grab another 1 tbsp worth of the mixture to pop over the top and again give it a good squeeze to close the lentil ball up, roll this in a small bowl of polenta and place on a baking tray lined with parchment, repeat this process with the remaining mixture, I got 6 good sized lentil balls from this. Pop in the oven and bake for 20 minutes, turning half way through.
While everything else is in the oven you can make the hot sauce. Add 1 tbsp water to a small saucepan over a medium heat and add the onion, garlic and chili and cook for 2 minutes before adding in the remaining ingredients, turn the heat down to low and just simmer for 5 minutes. Take a stick blender and blitz the sauce until it's nice and smooth. Give it a quick taste here (careful, this is HOT!!) decide if you want to add a little more soy or maybe a squeeze of lime juice and you are finished!
I had some left over avocado, so thought it would look nice as a bed for my lentils balls, so I just mashed it up added a squeeze of lime juice and a sprinkling of black pepper and I had a semi guacamole style dip!