This cheeky little recipe was Martin's lunch inspiration the other week, I took a photo as it looked so gorgeous and was delicious, so quick and easy for lunch and you could pack it in some Tupperware and take it to work with you too. Now that the weather is getting hot, hot, hot it's nice to have something on hand in the fridge that you can just pop in a bowl and eat then and there, no cooking required!
We're off out this afternoon for a walk to Penshaw monument, I'll be taking my camera to get a few snaps, it's a beautiful day so I'm hoping it doesn't cloud over when we venture out! Then I'm off up to Edinburgh in the morning to catch up with my clan, I've already got some recipes in mind that I want to try out while I'm at my mum's house, she can be my taster for the week! She's got a massive supermarket just 5 minutes down the road so I shall be filling my boots there!!!
Started a new book yesterday, The Snowman by Jo Nesbo. A friend recommended the author to me last year and I never got round to getting any of the books, but I saw a couple while I was in the bookstore and they sounded right up my street, so I bought 2, The Snow man is going well so far, I'll let you know what the other is like!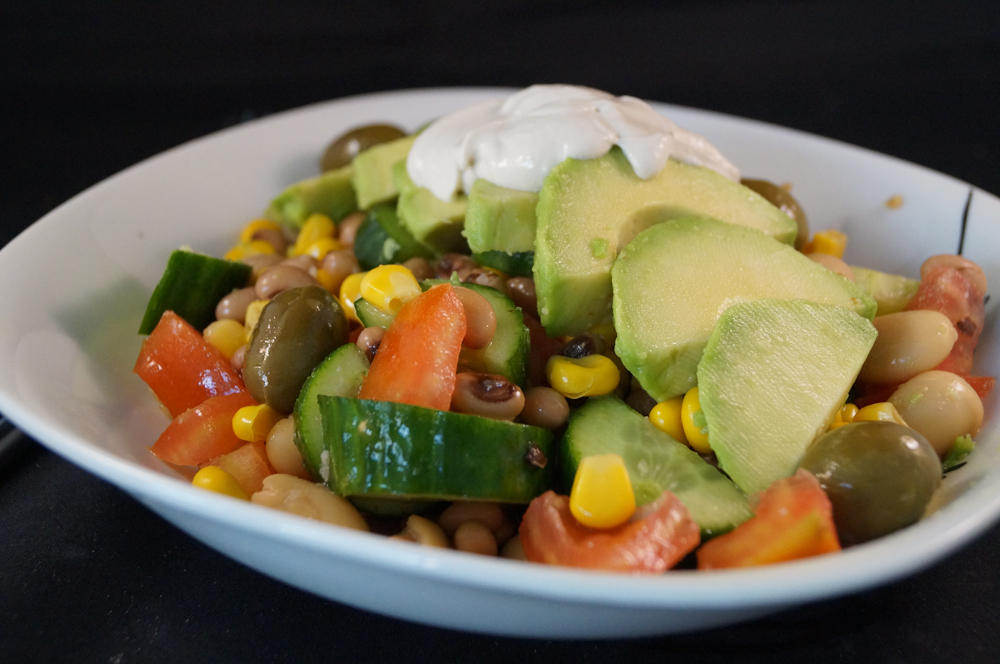 Avocado and Mixed Bean Salad topped with Tahini (vegan & gluten free)
MyInspiration Feel The Difference Range (Martin's Quick & Easy Meals)
Serves 4 – ready in 5 minutes
1 can black eye peas, drained and rinsed
1 can butter beans, drained and rinsed
1 large cucumber chopped
2 large tomatoes chopped
1/2 cup canned sweetcorn
16 large green olives (or black olives whichever you like best)
2 medium avocados, peeled and sliced
1 tbsp tahini
Method
1. Incredibly easy… In a large mixing bowl combine the black eye peas, butter beans, cucumber, tomato, sweet corn and olives and toss together, spoon into a nice bowl, top with your sliced avocado (half an avocado per bowl) and finish with a dollop of tahini, perhaps a little sprinkle of paprika as well if you have it!
If you are taking this to work in tupperware, then I would squeeze a little lemon juice over the avocado to stop it from going brown!