Now that it's cooling down a bit, I can actually get back to cooking on an evening, without looking like I've been hosed down! So I thought a nice big vat of curry would be just the thing, quick, cheap and tasty, 3 of my favourite words in the cooking world.
The recipe I say makes 6 servings. As there is only the 2 of us, we opted to have the recipe as written below on day 1 (yesterday) and tonight, I added a cup of cooked chickpeas to the curry to flesh it out and on Sunday I have some broccoli I'm going to fling in to finish the curry off.
I always find that curries are even tastier on day 2, all the spices have been absorbed by the aubergine and cauliflower, just delicious!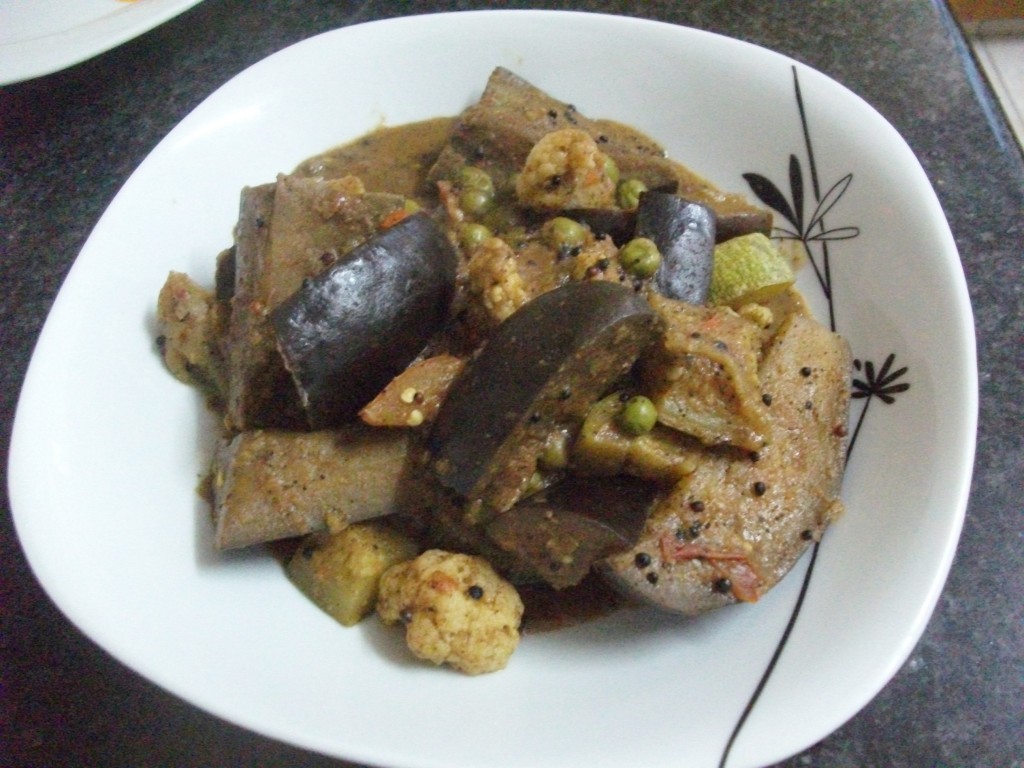 Aubergine & Cauliflower Curry for those who like it hot!!
Serves 6
Ingredients:
4 Aubergines, medium size, diced into large chunks
Half a head of cauliflower, florets only
1 cup of frozen peas
1 courgette diced
1 can coconut milk
½ cup of hot water
3 tomatoes roughly chopped
4 hot chillis
3 cloves of garlic finely chopped
1 inch piece of fresh ginger finely chopped
½ cup of passata
2 tbsp garam masala
1 tbsp mustard seeds
1 tbsp cumin
1 tbsp vegetable oil
Method
1. In a saucepan, cover the chopped aubergines with hot water then bring to the boil and turn off heat
2. Using a hand blender or food processor, blitz together the chillis, garlic, ginger and passata until it forms a smooth past.
3. Heat your oil in a large pot, then add the mustard seeds, cumin and garam masala powder and stir through waiting for the mustard seeds to pop.
4. Add the garlic/chilli/ginger paste into the pot and stir through for 2 minutes
5. Add the semi cooked aubergines, the cauliflower, courgette, peas, coconut milk and the water into the pot, mix well and turn the geat down and allow to simmer for 15 minutes.
6. Serve with some home made flat breads – recipe below
Whole-wheat chilli and cumin flatbreads
Makes 2 flatbreads
Ingredients
1 cup of whole-wheat flower
½ tsp baking powder
½ cup of warm water (you may not need it all)
2 tsp chilli flakes
2 tsp cumin powder
Method:
1. Combine all the ingredients adding enough water to bring the mixture to a dough that won't stick to your hands, if you put too much water in, just add some more flour until it comes to a consistency you can handle.
2. Knead the dough for 5 minutes and separate into 2 balls.
3. Heat a non stick frying pan
4. Roll out your dough balls so they are nice and thin, about 2-3mm in thickness
5. Place your rolled out dough, one at a time, onto the frying pan and wait for the air bubbles to appear on the top, flip it over and leave for a minute, the flat bread should look cooked, careful not to burn them.
* Note, on day 2 I did the same flat bread recipe but I added 2tbsp of dried coconut to the dough… yummy!