We've been roaming around Britain this summer and have been to some glorious seaside locations and there seems to be an abundance of cafes and restaurants offering afternoon/cream teas.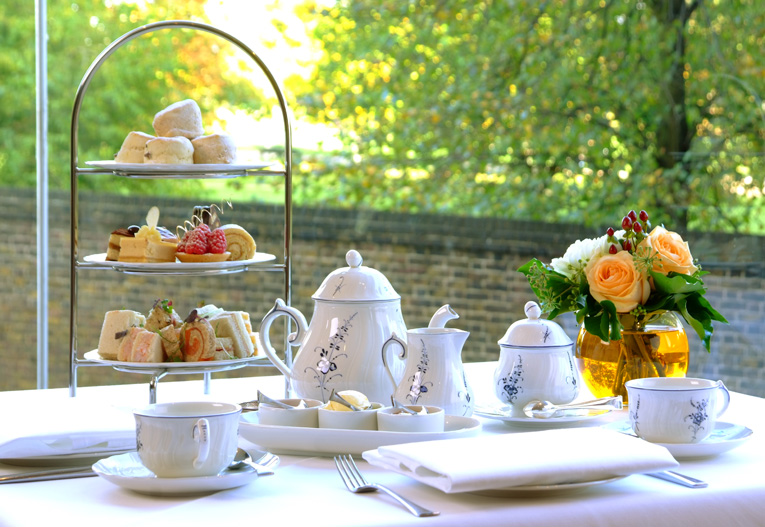 My nan absolutely loves this type of thing, she thinks it's very Ms Marple, so we're going to take her down to Bamburgh for the day and pay a visit to the Copper Kettle tea room.  I have emailed ahead as there isn't really anything that's vegan on the menu and the lovely lady has already emailed back asking what we can have and they will accommodate us,which I thought was lovely.
So I have been inspired to make my own little garden party and have afternoon tea, vegan style and I have found a recipe on greensageblog for these beautiful Tartes Aux Fruits which I think will go lovely with some almond milk frappes (if it's toastie outside!).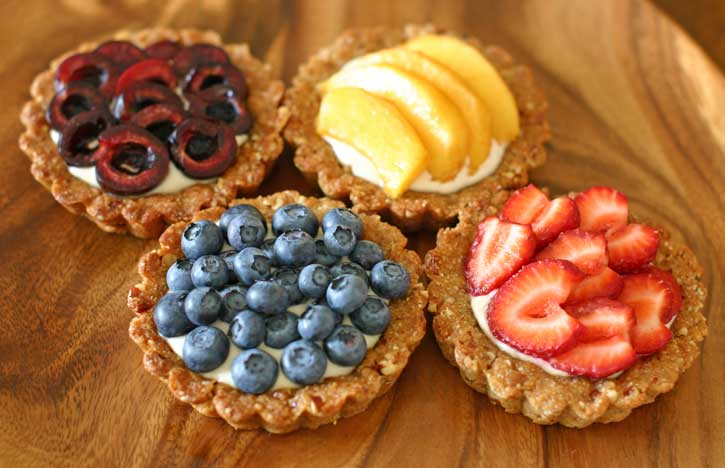 Tartes Aux Fruits
Makes 1 large or 6 individual tarts
For the pie crusts
Ingredients:
3/4 cup pecans
1 cup fine almond flour
2 T. maple sugar or raw cane
2 T. coconut butter
3 T. raw agave syrup
1/2 t. vanilla extract
1 T. water, or more if necessary
Instructions: 
1. Generously grease six 4-inch tart pans or one large one with coconut oil. Preheat the oven to 350° F.
Pulse the pecans in a food processor until you get small pieces, but not so long that they turn to dust (see photo, right, for reference). Pour the chopped pecans into a medium bowl, then add the almond flour and maple sugar. Stir to combine.
2. Add the coconut butter, agave syrup and vanilla extract, and use a pastry blender or fork to cut the coconut butter and other wet ingredients into the dry ingredients until it becomes a "crumble" consistency.
3. Add one tablespoon of water and begin kneading the mixture with your hands. Keep adding more water — a half tablespoon at a time — until it's a slightly sticky dough. It took me a total of about 1.5 tablespoons of water to achieve the right consistency, but I think this will depend on your climate.
4. If you want to make single servings, drop 2.5 tablespoons of dough into each of six 4-inch miniature tart pans, or turn all of the dough out into a standard tart pan. Use your fingers to press the dough into the pan(s), working it all the way up the sides, to the edge.
5. Place your tart pan(s) on a cookie sheet and slide them into the oven. Bake for 15 minutes, or until golden. Allow to cool before removing from the pans.
For the Filling
Ingredients
1/2 cup cashews, soaked at least two hours
1/2 cup flesh from a young Thai coconut
2 T. agave syrup
1 t. vanilla extract
1/4 cup water
Your choice of summer fruits, sliced
Instructions:
1. Open a young Thai coconut (white husk) with a sharp knife, drain (and drink!) the water, and scoop out the soft flesh with a spoon. If you don't know how to open a young Thai coconut, a quick YouTube search will bring up a number of instructional videos.
2. Make your vanilla cream by blending the cashews, coconut flesh, syrup, vanilla extract and water in a high-speed blender until very smooth. Spoon the cream into your readymade pie crusts and spread it out evenly.
3. Top with your favourite fruits and refrigerate until you're ready to serve them.
4. Blueberries, strawberries, peaches, cherries and mangoes are all excellent choices.
For original recipes and more from greensageblog see here.
Serve your delicious tarts with this delicious vegan frappe recipe: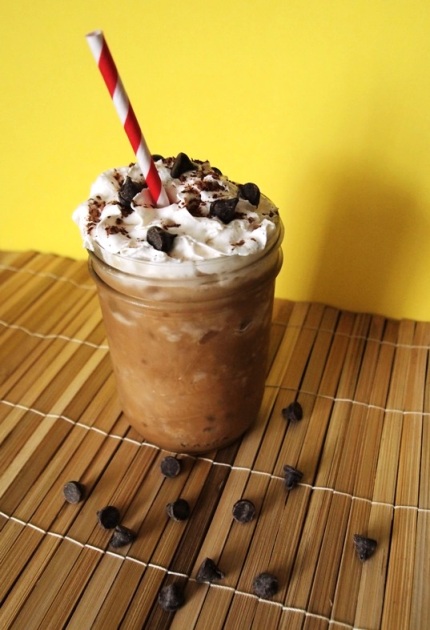 Vegan Frappé
1 teaspoon good quality instant coffee
8 ice cubes
1/4 cup almond, rice, or soy milk
Optional: sweetener of choice, flavoured syrup, vegan whipped cream, vegan chocolate chips
Instructions
Pour the coffee, ice cubes, and nondairy milk into a blender and blend until creamy.
Pour into glasses and add optional flavorings and garnishes, if desired. Serve immediately.
 Makes 2 servings or one large!
Original Frappe Recipe