Wednesday night is always pasta night in this house (gym class doesn't finish until 7, so need something quick to put together when I get back, hence the pasta dishes!) and after the tapenade I made the other day I was keen to make it again and incorporate it into my pasta dinner and thought that using it as a topping from some toasted pitta would be just the thing – and it was, it was scrumptious. I've also been using more passatta as opposed to the tinned chopped tomatoes as I think it gives my sauce a much richer taste to it, so I'm sticking with that for future sauce bases I think.
We're doing the countdown now for our trip to see the family, checking the weather forecast, it was -7 yesterday, that's right MINUS SEVEN, brrrrrrr. Planning my catch up sessions and trying to fit everyone in for coffees and lunches, I'll need another holiday once it's done! I might just get there though, sit in my nan's cosy lounge and not want to budge an inch, but we'll see how it goes!
Off out now for a girls lunch, menu options are very limited here as everything is so meat dense but I might be lucky and get a plate of chips with a side of hummus and salad!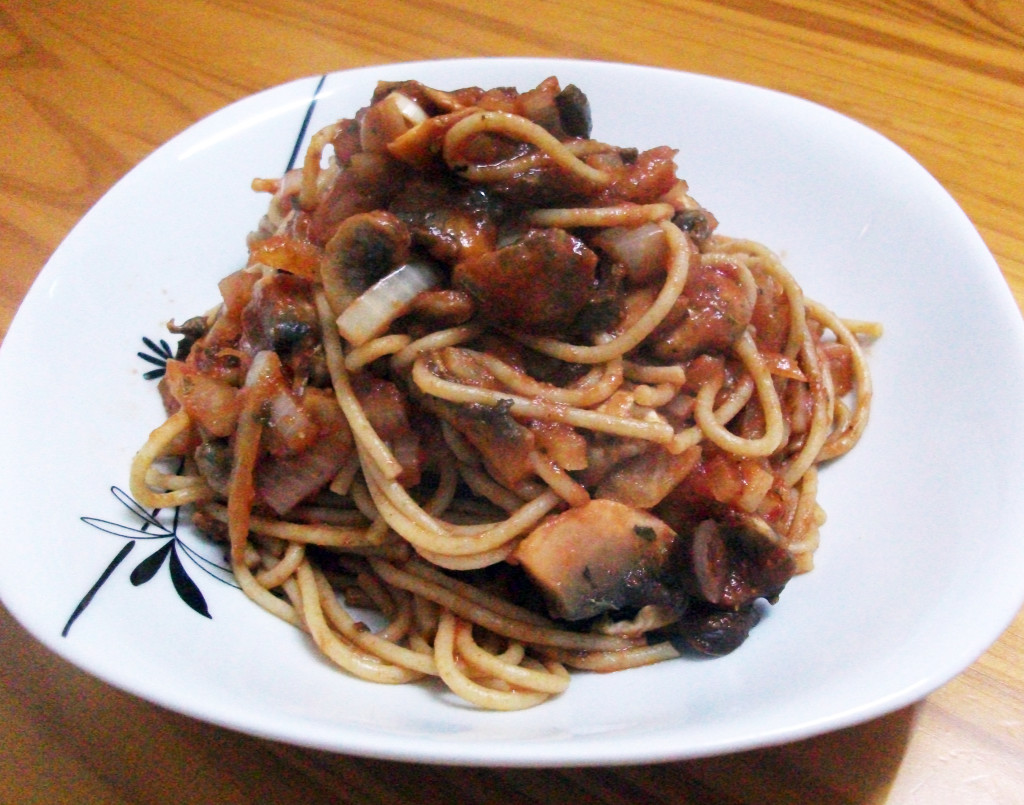 A Simple Mushroom & Kalamata Olive Spaghetti Napolitana
MyInspiration Feel The Difference Range
Serves 2 as a main meal
180g Whole wheat Spaghetti
2 cups passatta
1 ½ tbs tomato paste
1 onion finely sliced
6 – 8 medium button mushrooms sliced
1 clove garlic
½ tbsp lemon juice
½ cup pitted and sliced kalamata olives
1 tbsp dried basil
½ tbsp dried thyme
½ teaspoon dried coriander
Black pepper to season
Method
1. Bring a large pan of water to the boil and add your spaghetti and cook as per instructions.
2. In a sauté pan add 2tbsp water and then add the onion and garlic and cook for 3 minutes before adding the passatta, tomato paste, lemon juice and herbs and mix together.
3. Add the sliced mushrooms and allow to cook on a low heat for 10 minutes before finally adding in the black olives.
4. Drain the spaghetti and add to the tomato mixture and toss thoroughly and serve.
I toasted some a whole wheat pitta and made a quick black olive tapenade to top it – ¾ cup chopped black olives, 1 clove of garlic, 1 tsp lemon juice and a pinch of thyme, quickly blitz together using a blender and spread on top of the toasted pitta. Scrumptious!