It seem to be an unwritten rule now that Fridays are "Burger Nights" and I wanted to mix up my recipes a bit and try some potato in my patties to see what it does to the consistency and taste of the burgers and I have to say… I like it. I might even try it with sweet potato next time as I think it will give the burgers a lovely colour and a little sweetness as well. I did definitely over cater this time, this recipe will make 10 decent sized burgers, so I know what we'll be having for lunch tomorrow…
I'm torn today, I don't know if I should go bake something or go sit in the sun, it's a beautiful day. Perhaps I'll do both but I'll need to do a mini shop for some supplies if I decide to make something, I'll have lunch and ponder the day ahead. No football today as it's International matches, so it's a footie free weekend for me. We're thinking of jumping in the car tomorrow and going exploring with the new camera, it's been a long time since we took any landscape photos, I hope it stays nice weather wise.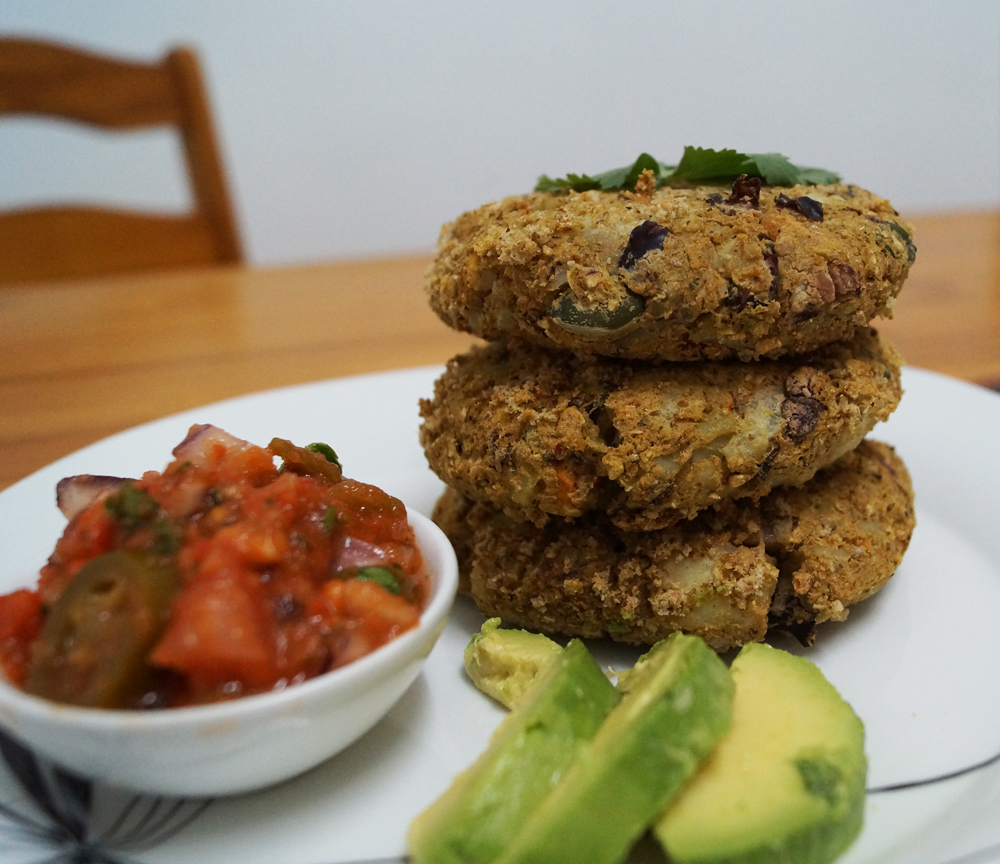 2 Bean Veggie Burgers with Sweet Chili Salsa (Vegan & Gluten Free)
MyInspiration Feel The Difference Range
Yields 10 decent sized burgers – ready in under and hour
1 can kidney beans (or 1 cup dry beans, soaked over night and cooked)
1 can chickpeas (garbanzo beans) or 1 cup dry beans, soaked over night and cooked)
1/2 red onion, finely chopped
1/2 cup coriander leaves
1 garlic clove
2 carrots peeled and diced
1 tbsp pumpkin seeds
1 tsp Garam Masala
1 tsp cumin
1/2 tsp black pepper
1/2 tsp cayenne pepper
1 tbsp red chili flakes
2 potatoes (peeled, boiled for 15 minutes and mashed)
1/2 cup Oats (use GF oats for Gluten Free option)
1 cup dry breadcumbs (GF Bread for Gluten Free Option)
Method
1. Very simple, preheat the oven to 180 degrees celcius and line 2 baking trays with parchment then add everything apart from the last 3 ingredients into a food processor and pulse until it's broken down, then stir through the potatoes and oats, shape into 10 patties, coat in the breadcrumbs and place on the baking tray and pop in the oven for 30 minutes turning half way through.
Sweet Chili Salsa
1 large red pepper
2 tbsp jalapeno chili peppers
2 dates (soaked in hot water for 5 minutes and drained)
1/2 red onion finely sliced
1 clove garlic
1/2 tbsp apple cider vinegar
1 large tomato diced
Handful of Fresh coriander leaves
2 tsp red chili flakes
1/2 tsp cayenne pepper
Method
1. In a food processor add the pepper, garlic and dates and pulse until smooth, add half the diced tomato, half the chopped onion and again pulse
2. Next add in the vinegar, chili flakes, cayenne pepper and stir through before adding all the remaining ingredients and stirring to mix together.