When we decided to go back to Italy this year for a holiday, I don't think even we imagined how amazing it would. We love Italy, be it the bustling streets of Rome to the more sedate wanderings around the porticoes of Bologna.
Previously we've been to Italy on short breaks but this time, we just went for it, 3 weeks of Italian bliss where we managed to walk 300km over the course of the holiday and see so much of this beautiful country (I'm slightly sad this way, I wore my pedometer everywhere!). I just want to share some of our trip with you all in case anyone was planning on going and needs a little inspiration.
We flew into Ciampino Rome quite late at night and thought that we had missed the last Terravision bus to take us into the city centre so we headed for the taxi rank but lo and behold I spotted quite a few buses sat at the terminal outside the airport and we managed to secure ourselves a place on one of the buses for 4 euros each. They left every half hour and took us straight to the Termini in Rome. It was a great start to our holiday, a taxi would have cost us quite a bit, so we'd already saved some money! We'd already booked into a hotel for that night that was 2 minute walk from Termini, we didn't want to be messing around with an apartment at midnight on a Saturday, so the hotel for the first night seemed the best option.
We stayed in Rome for 11 nights, the first night in the Genova Hotel, the following 7 nights were pure bliss, we got an amazing deal on the net for a 2 bed apartment that was a 10 minute walk from the Colosseum and 15 minute walk from the train station (I should point out here that we only ever travel with hand luggage as it saves a lot of money on your flight and makes getting around from one city to the other a lot easier, just sling your backpack over your shoulder and you're away – I can't recommend this form of travelling enough.) there were restaurants, bars and supermarket all within easy walking distance too which was fantastic.
I felt like a princess when they showed us the apartment and also a little apprehensive that perhaps they'd given us the wrong place as it was GORGEOUS and huge. The final 3 nights were spent in the Trastevere area, where we relaxed for a few days and spent an afternoon on Via Appia (details below).
We would walk every day out past the Colosseum, to the Vittorio Emanuele monument and just take in the sites, we tried out a vegan takeaway cafe called Universo Vegano which was tucked away on Piazza del Paradiso, 5 minute walk from Vittorio Emanuele, we stopped in Piazza Navona to see the local artists and musician in full swing, we went back to Fontana di Trevi, past the Spanish steps and pretty much all round the city.
You can't beat watching the sunset over Rome from the top of Vittorio Emanuele, many people think the monument is closed after 5pm as the gate at the front is closed, but it you pop around the side of the building there are entrances on either side of the building that gains you access, so head up there, watch the sunset and then pick up an Aperol Spritz cocktail in the cafe that's on the roof. I think it might be one of my favourite things, ever!
Using Rome as a base is a great idea if you want to do day trips to the south, we spent one such day going down to Naples and Pompeii. We got up early in the morning to catch the train and here is the breakdown of our day trip to Pompeii:
Pompeii & Naples Day trip from Rome
Regional Train from Termini to Naples (€12.90) approx 2 hours
Regional train from Naples to Pompeii (€2.90 each way) approx 30 minute journey time remember to get on the train marked Sorrento (Pompeii Direct) there are 2 trains that go to Sorrento, the other one will take ages to get there.
Come out the Pompeii Scavi station and turn right and the entrance to Pompeii is just a short walk away on the left (entrance to Pompeii €11 euros)
You can also go to Mount Vesuvius by getting back on the regional train to Naples and getting off at Erculana Scavi, there is a bus service just outside the station and to the left where you can get the bus up to the volcano (€20 – €10 for the bus and €10 for entrance to the crater) ** Something to note, if it's cloudy, they close the top of Vesuvius. We noted that when you come out of Pompeii taxi drivers were offering rides up to the volcano (even when it was closed) so be aware!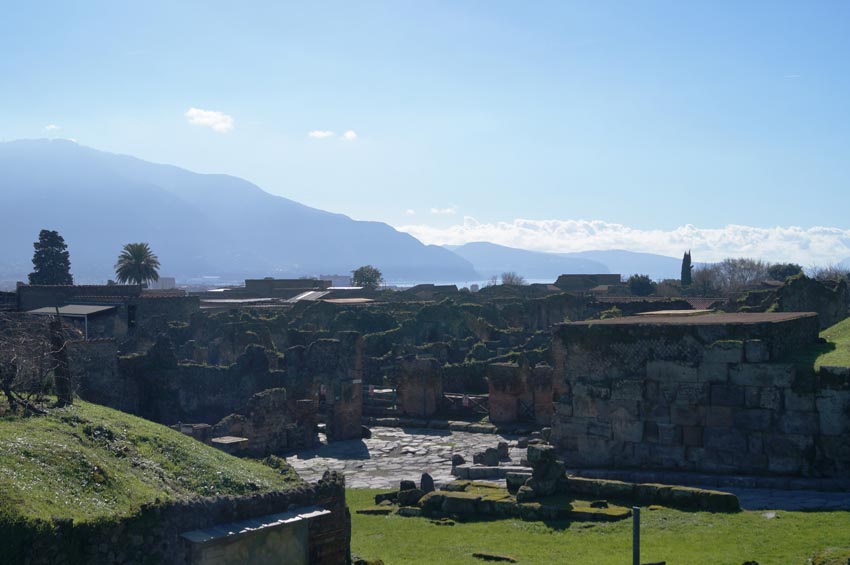 If you can, take some time out in Naples as it's a lovely place to visit. We only had a couple of hours there, and wandered along Corso Umberto, straight to the end where you can see Castel Nuovo (New Castle) and also the Umberto Gianni Galleria. Lots of place to stop for drinks and refreshments and you there is also Naples Port to see too.
We took a whole day to see the above, we caught the train at 8.38am from Termini and we got back to Rome at around 7pm. We splashed out and got the faster train back from Naples which is a bit more pricey at €49 euros (but we didn't get to Mount Vesuvius (cloudy) so we saved €40 euros hence the quicker train home which only took an hour and 10 minutes as opposed to the regional that would have taken us 2 hours 40 minutes (I think it has more stops than the one coming from Rome to Naples!)
Rome To Tivoli and Villa d'Este
On another day trip we went from Rome to Tivoli, this was a much shorter trip and we were only gone away for 4 hours or so, but it's well worth a visit. I think we were very fortunate as during February there aren't bus loads of tourists to contend with and you can get some wonderful photos. Just jump on the Metro from Temini – Tiburtina (€1.50) and then a regional train onto Tivoli, which is €5.20 return each and takes just under an hour, follow the street signs when you come out of the train station to take you to Villa d'Este, you might, like we did, walk right past the entrance as it's not obvious, you will come to a square with a big fish like statue, turn to the right and walk down to another square that looks like there is nothing useful, but the entrance to Villa d'Este is on the left hand side in the corner.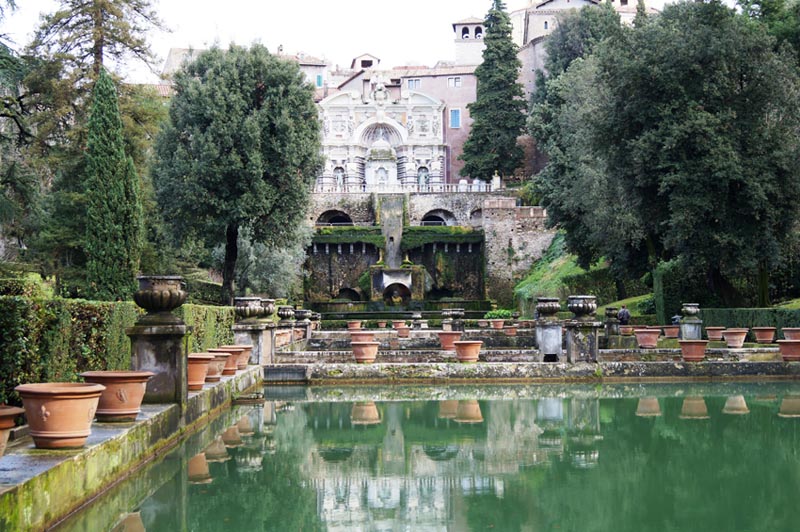 This magnificent villa is worth a visit (entry fee €8 each), you can wander around the house, stroll through the stunning gardens, watch the fountains and let your imagination wander as you think of the many generations who walked the same paths and took in those same views, it's a lovely day out.
The Appian Way – Via Appia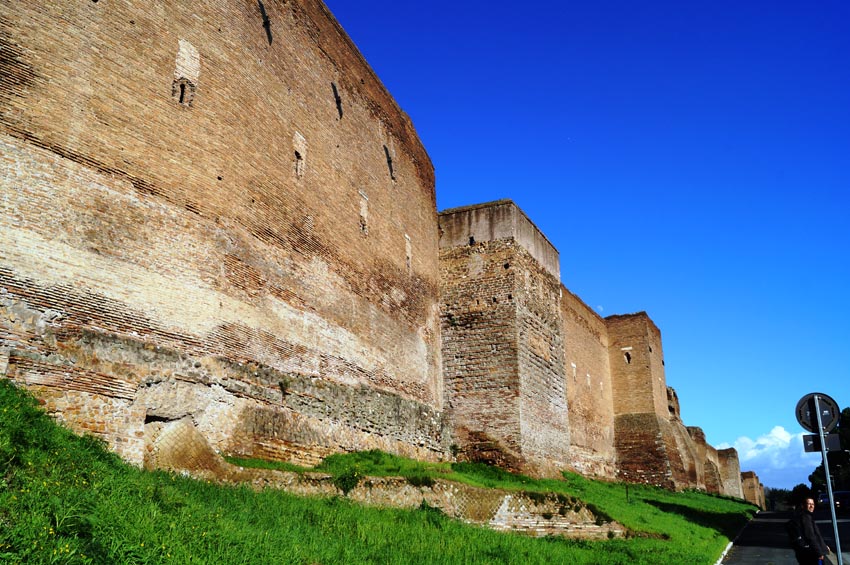 If you are in Rome and you have some time to spare, then please, do this walk! It is a bit of a hike, but it's a gorgeous one, starting at Porta San Sebastiano, you can walk for miles on end past the  Circus of Maxentius and Mausoleum of Cecilia Metella and then there is stunning views over the countryside.
When you think of the legions that would have marched that road, it's fascinating and a great way to spend an afternoon. There are some lovely quaint taverns and little cafes on the walk, so you can relax with a cool drink or grab a bite to eat.

Back in Rome I managed to find Bocca della Verità, which was used in Roman Holiday and I stood in the same place as the wonderful Audrey Hepburn and Gregory Peck did when they were filming. I couldn't wait to call my nan and tell her all about it!
 So I think I've talked you through our first 11 days and what you can do from Rome (there are so many more places you can easily visit just by jumping on the train and heading out, the train service is very reliable and crazy cheap, so use it!) another note, as it was February, it did rain a bit in Rome, but not enough to stop us having a fabulous time, there are lots of umbrella sellers out on the street so you are never caught short in the rain, pack some warm clothes as it can get chilly this time of year.
Look out for part 2 where we head on up to Bologna and Verona and take in some of the excitement of Venice Carnival and a last minute day trip over the border to Austria!!
Ciao from Mr K and I.